Tools for Presenting 3D Objects and Virtual Collections Online
Keywords:
3D Rendering, Online Exhibitions, Virtual Collections
Abstract
With the emerging Internet technologies, the need for rich and interactive web content has drastically increased. The presentation of information in an attractive way is extremely important for fields like digital libraries, e- Learning and e-Commerce. This paper describes a set of tools we developed for adding visualization of 3D content to new and existing web pages, which can be used by authors with various expertise and skills. Once embedded into a web page, this functionality becomes available on all modern devices and web browsers, without the need to install any additional software.
References
Konstantinov, O., Kovatcheva, E., Fol, V., Discover the Thracians – An Approach for Use of 2D and 3D Technologies for Digitization of Cultural Heritage in the Field of E-learning. International Conference Digital Presentation and Preservation of Cultural and Scientific Heritage. pp. 167 – 171 (2012)
Pavlov, R., Luchev, D., Tehnologichni aspekti i uslugi v tsifrovi biblioteki s kulturnoistorichesko sa-darzhanie, Kompyutarni nauki i komunikatsii, Tom 3, No. 4 (2014) ( Пав- лов, Р., Лучев, Д., Технологични аспекти и услуги в цифрови библиотеки с култур- но - историческо съдържание, Компютърни науки и комуникации, Том 3, No. 4 (2014))
Paneva-Marinova, D., D. Luchev, K. Rangochev. Virtual Expositions Modeling in the Bulgarian Folklore, International Journal Information Models & Analyses, Vol. 1/2012, Number 1, pp. 47-54, ISSN 1314-6416.
Moritz, F. (2010), Potentials of 3D-Web-Applications in E-Commerce - Study about the Impact of 3D-Product-Presentations., in Tokuro Matsuo; Naohiro Ishii & Roger Y. Lee, ed., 'ACIS-ICIS' , IEEE Computer Society, , pp. 307-314
Kotsilieris, T., Dimopoulou, N., The Evolution of e-Learning in the Context of 3D Virtual Worlds, Electronic Journal of e-Learning;Jun2013, Vol. 11 Issue 2, p147
Second Life Official Site – Virtual Worlds, Avatars, Free 3D Chat, http://secondlife.com/
Future of Virtual 3D Environments for Learning, http://elearningtech.blogspot.com/2010/05/future-of-virtual-3d-environments-for.html
WebGL - OpenGL ES 2.0 for the Web, https://www.khronos.org/webgl/
three.js – Javascript 3D Library http://threejs.org/
Georgiev, V., 3D Rendering in the Web Browser, Proceedings of the Forty Second Spring Conference of the Union of Bulgarian Mathematicians, Borovetz, April 2 – 6, Bulgaria
Georgiev, V., Mitreva, E., 3D Environment for Virtual Collections, Proceedings of Third International Conference for Digital Presentation and Preservation of Cultural and Scientific Heritage, Veliko Tarnovo, September 18-20, Bulgaria 2013
Georgiev, V., A Web Application for Creating and Presenting 3D Object Expositions, Proceedings of Fourth International Conference on Digital Presentation and Preservation of Cultural and Scientific Heritage, Veliko Tarnovo, September 18-21, Bulgaria 2014
DCMI Home – Dublin Core Metadata Initiative - http://dublincore.org/
Mitreva, E., Kaloyanova, K., NoSQL Solutions to Handle Big Data. In Proc. Doctoral Conference in MIE, 2013, pp. 77-86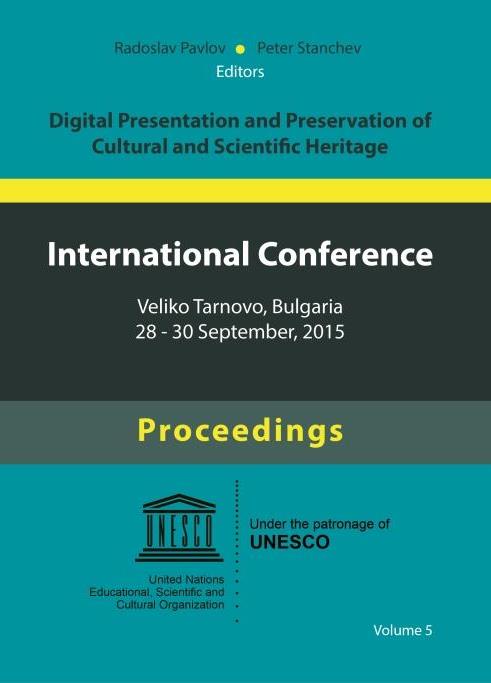 Downloads
How to Cite
Georgiev, V. (2015). Tools for Presenting 3D Objects and Virtual Collections Online. Digital Presentation and Preservation of Cultural and Scientific Heritage, 5, 285–292. https://doi.org/10.55630/dipp.2015.5.25