An Approach to the Visual Presentation of Museum Artefacts
Keywords:
Museum Artefact, Museum Souvenirs, Digitalization, Industrial Design, Visual Arts
Abstract
The present work aims to create approaches for applying the means of digitalization in the design stage and selection of (graphic) design solutions intended for the needs of the preservation and dissemination of the cultural-historical heritage. In order to expand the applicability of the proposed approach, the emphasis is mainly on the moment of the exact selection of exhibits of a given type in order to use them to achieve the best presentation for various needs of the graphic, industrial, etc. design for a wide range of objects - artefacts from museum collections such as costumes, costumes, jewellery and the like. One of the possible options for achieving the goals of the present development envisages the use of artificial intelligence tools and modern approaches to image analysis. Aims and objectives - to study a method of analysis and evaluation of artefacts.
References
Burgas, RHM. (2022). Retrieved from Regional historical museum Burgas, Official: https://burgasmuseums.bg/bg/collections.
Haykin, S. (1994). Neural Networks: A Comprehensive Foundation. NY: Macmil-lan.
Hagan, M., Demuth, H., & Beale, M. (1996). Neural Network Design. Boston: MA: PWS Publishing.
Monova-Zheleva, M., Zhelev, Y., & Stewart, R. (2019). An approach for valorisation of the emerging tacit knowledge and cultural heritage in rural and peripheral communities. Digital Presentation and Preservation of Cultural and Scientific Heritage, 9. Sofia, Bulgaria: Institute of Mathematics and Informatics – BAS.
Pavlov, R., Paneva-Marinova, D., Goynov, M., & Pavlova-Draganova, L. (2010). Services for Content Creation and Presentation in an Iconographical Digital Library. Serdica Journal of Computing , 4(2) , 279-292.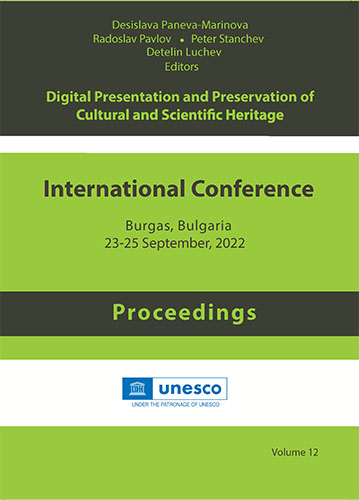 Downloads
How to Cite
Dubarova-Kostadinova, Z., Stewart, R., & Kostadinov, T. (2022). An Approach to the Visual Presentation of Museum Artefacts. Digital Presentation and Preservation of Cultural and Scientific Heritage, 12, 285–290. https://doi.org/10.55630/dipp.2022.12.27