XAML Digital Representation of Embroidery Cross Stitch Symbols
Keywords:
Cross stitch Software, CAD Systems, XAML, Home Crafts, Digitalization, Computer-aided Design
Abstract
This paper studies problems related to the development of craft software. It proposes an approach to developing an application for digital representation of stitches in cross stitch pattern software. The software is oriented to people manufacturing national Bulgarian costumes and clothing employing national Bulgarian cross stitch and embroidery. As UI elements, stitches are represented in XAML code. Graphic primitives are described in vector format; character transformations are allowed, and there are possibilities for creating combinations of stitches. The solution will be used in cross stitch software development.
References
Alita Design. (n.d.). Free cross stitch patterns . Retrieved from http://shemibroderia.blogspot.com/2017/11/blog-post.html
Popova, B. (2016). Traditional crafts in the epoch of globalization. 11th International Scientific Conference "Traditional crafts – past, present, future" (pp. 357-367). Gabrovo: 2016.
Brown, C. (2022, 05 20). Cross Stitch vs Embroidery: the difference explained. Retrieved from House&Beyond: https://houseandbeyond.org/cross-stitch-vsembroidery/
Falk, A. (2016). Unfolding fashion – reconsidering traditional patternmaking. Traditional Textile Crafts – An intangible cultural heridage? (p. 6). Copenhagen: Centre for Textile Research, University of Copenhagen. istoriavshevici. (n.d.). Retrieved from The history in embroidery: http://istoryavshevici.blogspot.com/
Rosenqvist, J. (2016). Introduction to Crafting Cultural Heritage. Crafting Cultural Heritage. Ed. Palmsköld, Rosenqvist & Almevik. (pp. pp. 7-10). Gothenburg: University of Gothenburg.
Veleva, P., Jordanova, L., Kiriakova, G., Angelova, N. (2018). Secret Language of Bulgarian Embroidery. Pedagogical Forum. 6. doi: 10.15547/PF.2018.010.
Vezba. (n.d.). Retrieved from https://vezba.bg/collections/vsichki-produkti
Williams, E. (2022, 05 26). 6 Best Cross Stitch Pattern Makers in 2022. Retrieved from Fix the photo: https://fixthephoto.com/best-cross-stitch-pattern-maker.html
Zaharieva-Stoyanova E., Bozov, S. (2017). Application of XML-based language for digital Representation of Crochet symbols. Digital Presentation and Preservation of Cultural and Scientific Heritage, (pp. 181-189). Burgas.
Zaharieva-Stoyanova, E., & Bozov, S. (2015). Portable knitting format - XML-based language for knitting symbols description. CompSysTech '15 Proceedings of the 16th International Conference on Computer Systems and Technologies , (pp. 252-259). Dublin.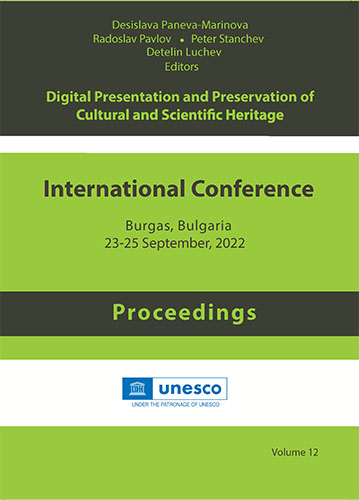 Downloads
How to Cite
Zaharieva-Stoyanova, E. (2022). XAML Digital Representation of Embroidery Cross Stitch Symbols. Digital Presentation and Preservation of Cultural and Scientific Heritage, 12, 243–248. https://doi.org/10.55630/dipp.2022.12.21