Digital Representation of Crochet Symbols Sets
Keywords:
Crochet Software, Knitting Software, CAD Systems, Home Crafts, Digitalization, Computer-aided Design
Abstract
This paper views problems related to the development of crochet software. It presents an approach for developing a software module representing crochet symbols for describing basic and advanced crochet stitches. The purpose is to develop a functionality that creates advanced crochet stitches made by combinations of basic ones. The module can be embedded in a crochet software to facilitate the process of crochet pattern design. The application is oriented to digital representation of crochet patterns, a part of old traditional costums and homemade textiles.
References
Brown-Reinsel, B. (2013). Retrieved from Knitting Traditions: https://knittingtraditions.com/
Craft Yarn Counsil. (n.d.). Crochet Chat Symbols . Retrieved from https://www.craftyarncouncil.com/chart_crochet.htm
FFonts. (2012, Oct. 5). Crochet Pattern Font, Ver 1.00. Retrieved from https://www.ffonts.net/tag/0/crochet
Hernandez, A. (2009). Stitchin Crochet . Retrieved from https://www.fonts.com/font/adriprints-press/stitchin/crochet
Kauricat Knits. (n.d.). Kauri's Knitting Font . Retrieved from https://sites.google.com/site/kauriknitsfont/home
Knitting Pattern Design Software. (2018). EnvisioKnit User's Manual. Retrieved from http://www.envisioknit.com/
Krastanova, K. (2016). Textile crafts as cultural heritage – valuableness and usage. 12th International Scientific Conference "Traditional crafts – past, present, future" , (pp. 13-26). Gabrovo.
National movement "Workshop- traditional crafts circle". (n.d.). Retrieved from http://sedianka.org/ за - нас /
Send Castle Design. (n.d.). Filet Crochet Software. Retrieved from http://www.crochetdesigns.com/software/default.htm
Soft Byte LTD. (2012). DesignaKnit8. Retrieved from http://www.softbyte.co.uk/designaknit.htm
Stitch Work Software. (2015, Sept. 4). Crochet Charts v.1.2.0 . Retrieved from http://stitchworkssoftware.com/
Stitchmastery. (2014). Knitting Chart Editor User Manual. Retrieved from http://www.stitchmastery.com/knitting-chart-editor/
Zaharieva-Stoyanova E., B. S. (2017). Application of XML-based language for dig-ital Representation of Crochet symbols. International Conference DiPP2017 , (pp. 181- 189). Burgas.
Zaharieva-Stoyanova, E. B. (2015). Portable knitting format - XML-based lan-guage for knitting symbols description. International conference CompSysTech2015 , (pp. 252-259). Dublin.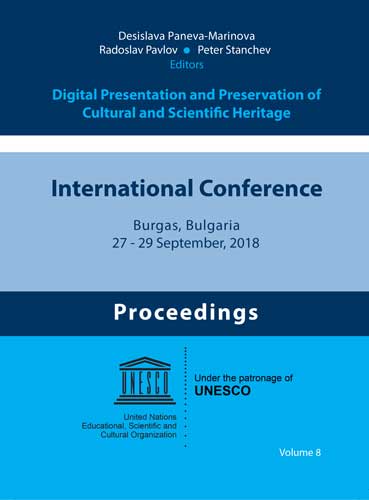 Downloads
How to Cite
Zaharieva-Stoyanova, E., & Beshevliev, D. (2018). Digital Representation of Crochet Symbols Sets. Digital Presentation and Preservation of Cultural and Scientific Heritage, 8, 159–164. https://doi.org/10.55630/dipp.2018.8.14