Digital Representation of Knitting Patterns in Traditional Costumes
Keywords:
CAD Systems, Hand-Made Knitting, Knitting Pattern, Digitalization, Software Applications
Abstract
The paper presents the application of a CAD system for digital representation of traditional knitting. The CAD system is oriented to hand knitting. As a software application the system is developed by using C# programming language and .NET platform. The paper focuses on the applied side of the software and its usage as a means of representing and storing ethnographic exhibits.
References
Malagoli Maria Grazia: CAD-CAM Technology: Transforming the Goldsmi th's Wor kshop, Experiences and benefit of CAD/CAM by a jewellery manufacturer, Gold Technology 34 Spring 2002.
Trievedi S., Amod Tiwari, Aurobinda Chatterjee, Vinay Pathak, Sanjay G., Dhande, Durg S., Chauhan: Application of CAD, Rapid Prototyping and Reverse Engineering in Handicrafts Sector – A Success Story, 9 th Intern. Conf. on Engineering Education, July 23-28, 2006, San Juan, PR (2006)
Zaharieva-Stoyanova E., Bozov, S.: CAD Module for Knitting Patterns Design, Intr. Conf. on Computer Systems and Technologies - CompSysTech'11, 15 -16 June 2011, Vienna, Austria (2011)
Bozov St., Zaharieva-Stoyanova, E.: Development Of CAD System For Knitting Pattern De-sign, International C onference "Automatics and Informatics'12", 3 -7 October, 2012, Sofia, Bulgaria (2012)
All Fiber Arts: Knitting, http://www.allfiberarts.com/cs/knitting.htm (2013)
Burda Fasion:Patterns, maincollection, http://www.burdafashion.com (2013)
Coats Bulgaria, http://www.coatsbulgaria.bg/ (2013)
Computer Aided Knitwear Design for Hand and Machine Knitting DesigaKnit8, Soft Byte Ltd, http://www.softbyte.co.uk/designaknit.htm (2013)
Etara Ethnographic Museum, http://www.etar.org/ (2013)
Knit Comp, Jim's Knitting Companion Program, http://www.cara4webshopping.com/knitcompanion.html (2013)
Knitting Math Wizard, http://knitting-math-wizard.software.informer.com/ (2013)
Knitting Stitch Patterns, Knitting On The Net, http://www.knittingonthenet.com/stitches.htm (2013)
Milena style, Catalogue 2013, http://www.milenastyle.com/catalog/catalog/index.php, (2013)
Pattern Maker for cross stitch, http://pattern-maker-for-crossstitch.software.informer.com, 2013.
PC Stitch7, http://www.softwarepod.com/ (2013)
TAAT Designers, http://taatdesigns.wordpress.com/ (2013)
Verena, Europes's top knit magazine, http://www.verenaknitting.com/ (2013)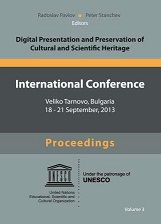 Downloads
How to Cite
Zaharieva-Stoyanova, E., & Bozov, S. (2013). Digital Representation of Knitting Patterns in Traditional Costumes. Digital Presentation and Preservation of Cultural and Scientific Heritage, 3, 72–80. https://doi.org/10.55630/dipp.2013.3.7