Integration of Validation Modules into Knitting Software for Digital Representation of Traditional Costumes
Keywords:
CAD systems, knitting software, XML, hand-made knitting, knitting pattern, digitalization, software applications
Abstract
This paper considers problems related to the development of knitting software for manual knitting. The support of error handling in knitting software is important for the users. The paper introduces an XML-based approach which allows recreating limitations due to the knitting technology. Each of them represents a Rule which contains certain conditions. One condition describes, allows or doesn't allow combinations of stitches. The XML-based limitation scheme is developed for building on CAD systems for manual knitting. The users of such software applications could be: people who are interested in knitting as a hobby; editors of knitting hobby magazines; ethnographers who deal with the area of old traditional costumes and manual knitting.
References
James Abello, Peter Broadwell, Timothy R. Tangherlini, Computational Folkloristics, Communications of the ACM, Vol. 55 No. 7, Pages 60-70.
Tangherlini, Timothy R., The Folklore Macroscope: Challenges for a Computational Folkloristics, Academic journal article from Western Folklore , Vol. 72, No. 1, Winter 2013
Trievedi S., Amod Tiwari, Aurobinda Chatterjee, Vinay Pathak, Sanjay G., Dhande, Durg S., Chauhan, Application of CAD, Rapid Prototyping and Reverse Engineering in Handicrafts Sector – A Success Story, 9 th Intern. Conf. on Engeneering Education, July 23- 28, 2006, San Juan, PR.
Zaharieva-Stoyanova E., St. Bozov, Digital Representation of Knitting Patterns in Traditional Costumes, Int. conf. Digital Representation and Preservation of Cultural and Scientific Heritage DiPP 2013, 18-21 September 2013, Veliko Tarnovo, Bulgaria.
Zaharieva-Stoyanova E., St. Bozov, Portable Knitting Format - XML-based Language for Knitting Symbols Description, Inter. Conf. on Computer Systems and Technologies - CompSysTech'15, 25-26 June 2015, Dublin, Ireland.
Aran Sweater Market – The famous original since 1892, http://www.aransweatermarket.com/ , 2015
DesignaKnit8, Soft Byte LTD, http://www.softbyte.co.uk/designaknit.htm, 2015.
EnvisioKnit User's Manual, Knitting Pattern Design Software, http://www.envisioknit.com/, 2015.
Kauri's Knitting Font, Kauricat Knits, https://sites.google.com/site/kauriknitsfont/home, 2015.
Knit Chart Symbols, Yarn Standards, Craft Yarn Council, http://www.craftyarncouncil.com/chart_knit.html, 2015.
Knit Visualizer User Manual, The Knit Foundry, 2009.
Knitting Chart Editor User Manual, Stitchmastery 2014, http://www.stitchmastery.com/knitting-chart-editor/, 2015.
Knitting Stitch Patterns, Knitting On The Net, http://www.knittingonthenet.com/stitches.htm , 2015.
Stitch & Motif Maker, Software Informer, http://stitch-motifmaker1.software.informer.com/, 2015Understanding XML, http://msdn.microsoft.com/enus/library/aa468558.aspx , 2015.
Understanding XML, http://msdn.microsoft.com/en-us/library/aa468558.aspx , 2015.
Verena, Europes's top knit magazine, http://www.verenaknitting.com/, 2015.
Woolly Font, Woolly Wormhead, http://www.woollywormhead.com/knitting-fonts/, 2015.
XAML Overview (WPF), http://msdn.microsoft.com/enus/library/ms752059(v=vs.110).aspx , 2015.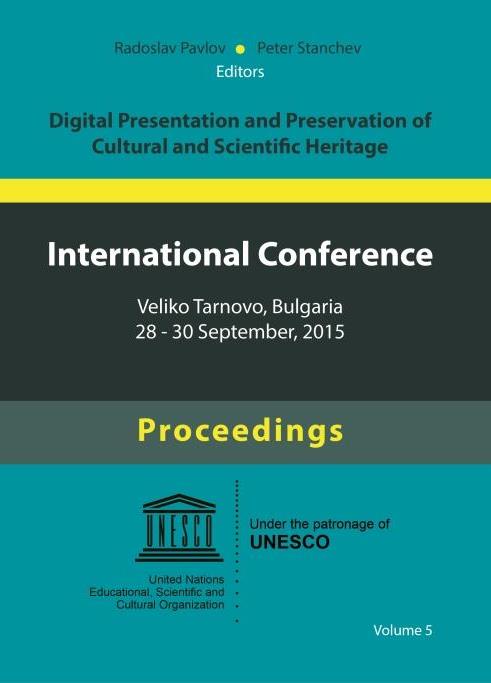 Downloads
How to Cite
Bozov, S., & Zaharieva-Stoyanova, E. (2015). Integration of Validation Modules into Knitting Software for Digital Representation of Traditional Costumes. Digital Presentation and Preservation of Cultural and Scientific Heritage, 5, 303–311. https://doi.org/10.55630/dipp.2015.5.27