Presentation Layer in a Virtual Museum for Cultural Heritage Artefacts
Keywords:
Virtual Museum, Presentation Layer, Cultural Heritage, 3D Objects, Three-dimensional Representation
Abstract
This paper aims to show the presentation layer of a virtual museum for cultural heritage artefacts. The three-dimensional representation and the main components of a 3D environment of the virtual museum are discussed. The composing 3D objects in the virtual museum, with different viewing options, as well as an implementation of a three-dimensional representation and the means for greater realism of the three-dimensional image, are described
References
Banks, M., Read, J., Allison, R., & Watt, S. (2012). Stereoscopy and the Human Visual System. SMPTE Motion Imaging Journal , 121(4), 24-43, May 2012, doi: 10.5594/j18173
Bozorgi, Kh., & Lischer-Katz, Z. (2020). Using 3D/VR for Research and Cultural Heritage Preservation: Project Update on the Virtual Ganjali Khan Project. Preservation, Digital Technology & Culture , vol. 49, no. 2, 45-57. doi:10.1515/pdtc-2020-
Carvajal, D.L., Morita, M.M., & Bilmes, G. (2020). Virtual museums. Captured reality and 3D modeling. Journal of Cultural Heritage , 45, 234-239.
Helmut, J., & Fritz M. (2006). Stereo projection using interference filters. In: Woods, A.J., Dodgson, N.A., Merritt, J.O., Bolas, M.T., & McDowall, I.E. (eds.). Stereoscopic Displays and Virtual Reality Systems , XIII. Proc. SPIE 6055G (27 January 2006). doi:10.1117/12.650348.
Jiménez Fernández-Palacios, B.J, Morabito, D., & Remondino, F. (2017). Access to complex reality-based 3D models using virtual reality solutions. Journal of Cultural Heritage , 23, 40-48. doi:10.1016/J.CULHER.2016.09.003
Mikkelsen, M. (2008). Simulation of Wrinkled Surfaces Revisited. Available at: https://www.google.com/url?sa=t&rct=j&q=&esrc=s&source=web&cd=&cad=rja &uact=8&ved=2ahUKEwjTlqKgzaTyAhUxposKHcWYC3QQFnoE- CAQQAw&url=http%3A%2F%2Fimage.diku.dk%2Fprojects%2Fmedia%2Fmorten.mikkelsen.08.pdf&usg=AOv- Vaw39xZIoqelhDtbU6wJBrcAz. [Accessed 7/6/2021].
Paneva-Marinova, D., Stoikov, J., Pavlova, L., & Luchev, D. (2019). System Architecture and Intelligent Data Curation of Virtual Museum for Ancient History. SPIIRAS Proceedings , 18(2), 444-470. doi:10.15622/sp.18.2.444-470.
Pietroni, E., & Adami, A. (2014). Interacting with Virtual Reconstructions in Museums: The Etruscanning Project. ACM Journal on Computing and Cultural Heritage, 7, 9:1-9:29.
Schweibenz W. (2004). The Development of Virtual Museums. ICOM News , Vol. 57, No.3., 3.
Schweibenz, W. (2019). The virtual museum: an overview of its origins, concepts, and terminology. The Museum Review , vol. 4, no. 1, 1 - 29. Available at: https://www.researchgate.net/publication/335241270_The_virtual_museum_an_overview_of_its_origins_concepts_and_terminology. [Accessed 7/6/2021].
Skamantzari, M. &Georgopoulos, A. (2016). 3D Visualization for Virtual Museum Development. ISPRS - International Archives of the Photogrammetry, Remote Sensing and Spatial Information Sciences , vol. 41-B5, 961–968, 2016. doi:10.5194/isprs-archives-XLI-B5-961-2016.
Snyder, J.P. (1993). Flattening the Earth: Two Thousand Years of Map Projections . Chicago & London: The University of Chicago Press.
Virtual Multimodal Museum. (2018). The ViMM Definition of a Virtual Museum . Posted by Christiana Polycarpou, January 10, 2018. Available at: https://www.vimm.eu/2018/01/10/the-vimm-definition-of-a-virtual-museum/. [Accessed 7/6/2021].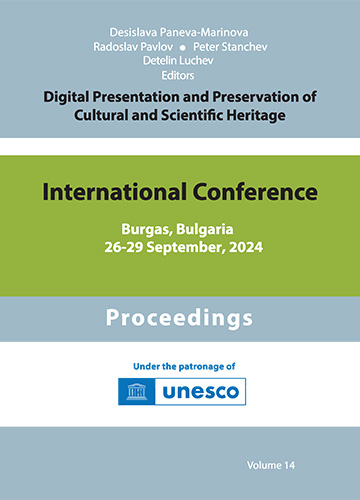 Downloads
How to Cite
Paneva-Marinova, D., Goynov, M., Luchev, D., & Zlatkov, L. (2021). Presentation Layer in a Virtual Museum for Cultural Heritage Artefacts. Digital Presentation and Preservation of Cultural and Scientific Heritage, 11, 111–122. https://doi.org/10.55630/dipp.2021.11.10