Mobile Interpreting of Heritage Values in Historical Cemeteries
Keywords:
Mobile Applications, Tourist Guide Application, Heritage Interpretation, Cultural Heritage, Digital Presentation
Abstract
The paper presents a mobile application introducing the heritage values in historical cemeteries. The application is developed for both the experts of the domain and people merely interested in the topic. Guided walks within the GUIDE@HAND audio tourist guide introduce several cemeteries of Europe. In order to support the participants of the international seminar on heritage values in historical cemeteries, the application includes a mobile conference guide, as well.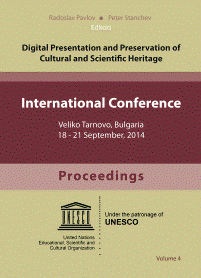 Downloads
How to Cite
Deák, I., László Márkus, Z., Szkaliczki, T., Kaposi, G., Szántó, G., Veres, M., & Weisz, Z. (2014). Mobile Interpreting of Heritage Values in Historical Cemeteries. Digital Presentation and Preservation of Cultural and Scientific Heritage, 4, 115–126. https://doi.org/10.55630/dipp.2014.4.13