University Readiness for Inclusive Digital Education in Industry 4.0 Era: Survey Results
Keywords:
Industry 4.0, University 4.0, Education 4.0., Digital Education, Inclusive Education
Abstract
The emergence of Industry 4.0 has brought about remarkable technological progressions, leading to substantial transformations in work environments. This has created a globally shared vision that the educational and training systems should be improved to offer high-quality, inclusive, and accessible digital education to develop essential skills and abilities that guarantee job readiness and assimilation into the current labour metamorphoses of era 4.0. In Europe, the reform of education at all levels in response to the concepts of University 4.0 and Education 4.0 is outlined as a key priority. In this regard, outlining the factors for successful inclusive digital education, as well as the barriers to its implementation, is crucial. This paper presents some of the main results of a survey conducted in Bulgaria, Greece, Italy and Latvia, aiming to determine the readiness of universities to provide inclusive Industry 4.0 education.
References
Bonfield, C., Salter, M., Longmuir, A., Benson, M., & Adachi, C. (2020). Transformation or evolution?: Education 4.0, teaching and learning in the digital age. Higher Education Pedagogies, (1), 223-246 https://doi.org/10.1080/23752696.2020.1816847
EDU-GATE Project . (n.d.). https://edugate-project.eu/
Evans, S. K., Pearce, K. E., Vitak, J., & Treem, J. (2017). Explicating Af-fordances: A Conceptual Framework for Understanding Affordances in Communication Research. Computer-Mediated Communication , (1) 135–52. https://doi.org/10.1111/jcc4.12180
Gueye, M., & Exposito, E. (2020). University 4.0: The Industry 4.0 paradigm applied to Education. IX Congreso Nacional de Tecnologías en la Educación, Oct 2020. Puebla (Mexico). France. hal-02957371. https://hal-univ-pau.archivesouvertes.fr/hal-02957371
Johnston, B., MacNeill, S., & Smyth, K. (2019). Conceptualising the Digital University: The Intersection of Policy, Pedagogy and Practice. Palrave MacMillan.
Wang, S., Wan, J., Li, D., & Zhang, C. (2016). Implementing Smart Factory of Industrie 4.0: An Outlook. International Journal of Distributed Sensor Networks , (1), Article 3159805. https://doi.org/10.1155/2016/3159805
Wörner, S., Kuhn, J., & Scheiter, K. (2022). The Best of Two Worlds: A Systematic Review on Combining Real and Virtual Experiments in Science Education. Review of Educational Research, 92(6) , 911-952. https://doi.org/10.3102/00346543221079417
Yeoman, P., & Wilson, S. (2019). Designing for situated learning: Understanding the relations between material properties, designed form and emergent learning activity. British Journal of Educational Technology, 50(5) , 2090-2108. https://doi.org/10.1111/bjet.12856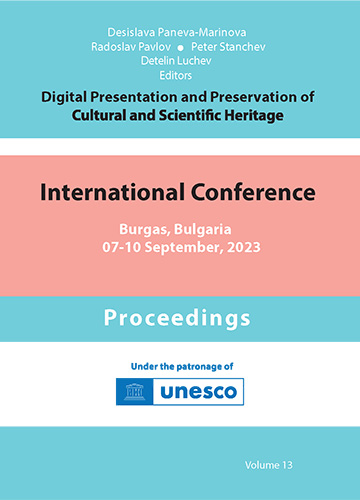 Downloads
How to Cite
Nikolova, E., Monova-Zheleva, M., & Zhelev, Y. (2023). University Readiness for Inclusive Digital Education in Industry 4.0 Era: Survey Results. Digital Presentation and Preservation of Cultural and Scientific Heritage, 13, 199–208. https://doi.org/10.55630/dipp.2023.13.19