Medieval Sources and Present-Day Folklore Materials on Saints in an Electronic Encyclopedia
Keywords:
Digital Libraries, Electronic Encyclopedia, Saints, Texts, Images, Folklore
Abstract
This paper discusses the variety of the digitized content of an electronic encyclopedia on the veneration of saints according to Bulgarian sources. The emphasis is on medieval Slavonic Church manuscripts and on present-day records of Bulgarian folklore narratives and songs. The combination of these sources provokes discussion of the so-called folklore Christianity and adds new dimensions to the understanding of the role of the cults of saints for culture and of the religiosity of the Bulgarians.
References
Georgieva, I.: Bulgarian popular mythology. Sofia (1983)
Ivanova, E.: Utilitarian sacrality: Discovery of tolerance, Bulgarian Folklore, 1-2, 102 – (1995)
Kliment Ohridski: Homilies and Offices, Ed. by Petko Petkov, Iskra Hristova-Shomova, and Anna-Marija Totomanova. Sofia (2008)
Rangochev, K.: Main features of folklore orthodox Christianity. I. The door of the temple (Observations on present-day processes in Samokov and its regions), In: The ruler and the saint. Annual of Ongal Association, Vol. 8, part 2, Sofia, 9 – 26 (2009)
Rangochev, K.: Folklore and religion. I. Problems of terminology, In: Epics, language, and myth. Annual of Ongal Assiciation, Sofia, 313 – 334 (2011)
Hristova-Shomova, I.: Byzantine synaxaria and calendars of Slavonic Acts and Epistles manuscripts, Рalaeobulgarica, 34 , 2, 5 – 41 (2010)
Hristova-Shomova, I.: Instructions in calendars of some Slavonic Acts and Epistles manuscripts and Byzantine synaxaria, Рalaeobulgarica, 34, 3, 3– 25 (2010)
Goynov, M., Paneva-Marinova, D., Dimitrova, M.: Online Access to the Encyclopaedia Slavica Sanctorum. - In: 1st International Conference "Digital Preservation and Present ation of Cultural and Scientific Heritage, Veliko Tarnovo, Bulgaria, 99 – 110 (2011) International Conference on Digital Presentation and Preservation of Cultural and Scientific Heritage
Stareva, L.: Bulgarian saints and feasts. Sofia (2003)
Analecta Hymnica Graeca e codicibus eruta Italiae Inferioris. Ioseph Schiro' consilio et ductu edit. Roma (1966 – 1983)
Bibliotheca Hagiographica Graeca. 1 – 3. Ed. F. Halkin. Bruxelles (1957)
Bibliotheca Hagiographica Balcano-Slavica. Ed. K. Ivanova. Sofia (2008)
Delehaye, H. Synaxarium Ecclesiae Constantinopolitanae e Codice Sirmondiano nunc Berolinensi. Bruxelles (1902)
Παπαηλιοπούλου - Φωτοπούλου, Ε. Ταμείον άνεκδότων βυζαντινών ᾀσματικών κανόνων seu Analecta Hymnica Graeca e Codicibus eruta Orientis Christiani. 1. Κανόνες Μηναίων. Άθῆναι (1996)
Plank, P., C. Lutzka, Chr. Hannick Das byzantinische Eigengut der neuzeitlichen slav ischen Menäen und seine griechischen Originale . T. 1 – 2. Paderborn (2006)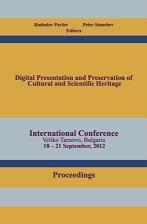 Downloads
How to Cite
Rangochev, K., Dimitrova, M., & Paneva-Marinova, D. (2012). Medieval Sources and Present-Day Folklore Materials on Saints in an Electronic Encyclopedia. Digital Presentation and Preservation of Cultural and Scientific Heritage, 2, 172–176. https://doi.org/10.55630/dipp.2012.2.10