Intellectual Property Protection of Digital Cultural Heritage
Keywords:
Cultural Heritage, Digital Content, Intellectual Property, Watermarking, Protection Framework Models
Abstract
Use of information and communication technologies are becoming a crucial part of our lives, which creates new opportunities for promoting Cultural Heritage through digital technologies and the internet. Use of techniques for intellectual property protection of digital content by cultural heritage institutions has gotten little attention up to this point. As technology evolves rapidly, concerns about protecting intellectual property have arisen, as digital content could be modified using freely available software. The paper focuses on watermarking techniques that could be used in the digitization process and analyses of algorithms for protecting intellectual property of digital heritage content.
References
Begum, M., & Uddin, M. (2020). Digital Image Watermarking Techniques: A Review. Information, 11 (2), Article 110. https://doi.org/10.3390/info11020110
Borrissova, V. (2010). Digitizing Cultural Heritage in Bulgaria. WIPO.
Copyright protection . (n.d.). Retrieved 25, 2023, from http://what-whenhow.com/digital-imaging-for-cultural-heritage-preservation/copyright-protectionof-digital-images-of-cultural-heritage-part-1/
Hamza, R., & Pradana, H. (2022). A Survey of Intellectual Property Rights Protection in Big Data Applications. Algorithms, 15 (11), Article 418.
Liu, J. (2022). Digitally Protecting and Disseminating the Intangible Cultural Heritage in Information Technology Era. Mobile Information Systems , Article 1115655.
Liu, Y. (2022). Application of Digital Technology in Intangible Cultural Heritage Protection. Mobile Information Systems . Article 7471121.
Luchev, D., Goynov, M., Paneva-Marinova, D., Stoykov, J., & Pavlova, L. (2021). Synergy of national cultural heritage and technology. Digital Presentation and Preservation of Cultural and Scientific Heritage , , 281-286.
Mendoza, M. A. D., De La Hoz Franco, E., & Gómez, J. E. G. (2023). Technologies for the Preservation of Cultural Heritage—A Systematic Review of the Literature. Sustainability, 15 (2), Article 1059. https://doi.org/10.3390/su15021059
Missier, P. (2014). Technology for the copyright protection of digital images.
Pantalony, R. (2013). Managing Intellectual Property for Museums. WIPO.
Poulopoulos, V., & Wallace, M. (2022). Digital Technologies and the Role of Data in Cultural Heritage: The Past, the Present, and the Future. Big Data Cogn. Comput, (3), Article 73. https://doi.org/10.3390/bdcc6030073
Trivedi, N. K., Kumar, S., & Maheshwari, S. (2020). Principles of Digital Watermarking: Present Scenario and Future Scope. In L. Gaur, A. Solanki, V. Jain, & D. Khazanchi (Eds.), Handbook of Research on Engineering Innovations and Technology Management in Organizations (pp. 325-349). IGI Global.
Tsolis, D., Nikolopoulos, S., Karatzas, E., Sioutas, S., Hondrou, E., Mouriki, A., . . . Papatheodorou, T. (2006). Watermarking and digital rights management - a pilot DRM system implementation and technical guidelines to cultural digitization projects. In 7th International conference on Virtual Reality, Archaeology and Intelligent Cultural Heritage (pp. 117-121). Eurographics Association.
Vasudev, R. (2016). A Review on Digital Image Watermarking and Its Techniques. Journal of Image and Graphics, 4 (2), 150-153.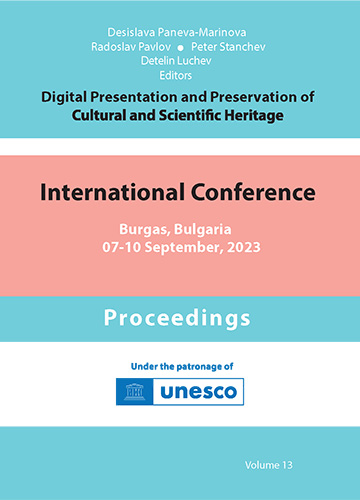 Downloads
How to Cite
Todorov, T., & Lutfiu, S. (2023). Intellectual Property Protection of Digital Cultural Heritage. Digital Presentation and Preservation of Cultural and Scientific Heritage, 13, 263–268. https://doi.org/10.55630/dipp.2023.13.25