Cyber Risk Assessment Principles for Modern Digital Museums
Keywords:
Digital Data, Cyber Security, Risk Assessment, Modern Museums
Abstract
Modern museums as well as other sectors that have their activity exposed to the internet process digital data. The digitalization of museums and other institutions that promote cultural heritage has gained momentum in recent years, especially during the COVID-19 pandemic, when their activities were completely closed to the public. Cybersecurity is based on preventive methods applied to maintain the confidentiality, integrity and availability of digital data and services provided. In the paper is presented an analysis of the principles and standards for the risk management of modern digital museums. The paper analyses the principles risk management and compliance requirements needed to assess the risk of modern digital museums, based on which institutions dealing with cultural heritage will be able to decide on the investments necessary for protection of their technologies and services they provide.
References
Beagrie, N., Charlesworth, A., & Mill, P. (2014). Cloud Storage . Retrieved June 11, 2022, from Cloud Storage and Digital Preservation: https://cdn.nationalarchives.gov.uk/documents/archives/cloud-storageguidance.pdf
Bogdanova, G., Sabev, N., Tomov, Z., & Ekmekci, M. (2021). Physical and Digital Accessibility in Museums in the New Reality. ISMSIT , (pp. 404-408).
CIA TRIAD . (2021). Retrieved June 11, 2022, from https://websitesecuritystore.com/blog/what-is-the-cia-triad/
Digital Skills . (2020). Retrieved June 11, 2022, from Digital Skills for Heritage: Online Privacy and Security: https://www.heritagefund.org.uk/sites/default/files/media/attachments/Online%20p rivacy%20and%20security.pd
Donaldson, D., & Bell, L. (2019). Security, Archivists, and Digital Collections. Journal of Archival Organization, 15 , 1-19. doi:10.1080/15332748.2019.1609311
Leveson, N. (2020). Safety and Security Are Two Sides of the Same Coin. In SpringerBriefs in Applied Sciences and Technology. Springer, Cham. doi:10.1007/978-3-030-47229-0_3
Noehrer, L., Gilmore, A., Jay, C., & Yehudi , Y. (2021). The impact of COVID-19 on digital data practices in museums and art galleries in the UK and the US. Humanit Soc Sci Commun, 8 .
Paneva-Marinova, D., Stoikov, J., Pavlova, L., Luchev, D. ( ). System Architecture and Intelligent Data Curation of Virtual Museum for Ancient History. SPIIRAS Proceedings, 18( ) , 444-470. doi:10.15622/sp.18.2.444-470
Security updates Devices and software are not vulnerable to known security issues • Ensure that all software's are licensed and supported from vendor • remove software when they become unsupported from vendor • enable automatic update
Risk assessment . (n.d.). Retrieved June 11, 2022, from https://fim.edu.rs/en/the-act-onrisk-assessment-is-a-legal-obligation-of-companies/
SABSA . (n.d.). Retrieved June 11, 2022, from https://sabsa.org/
TOGAF Standard . (n.d.). Retrieved June 11, 2022, from https://www.opengroup.org/togaf
Tunggal, A. (2022). Cybersecurity Risk Assessment . Retrieved June 11, 2022, from https://www.upguard.com/blog/cyber-security-risk-assessment
White paper UK Museum Sector . (n.d.). Retrieved June 11, 2022, from https://www.cisco.com/c/dam/global/en_uk/solutions/digitaltransformation/museums-culture/pdfs/Cisco-white-paper-UK-Museum-Sector- Embracing-Digitisation.pdf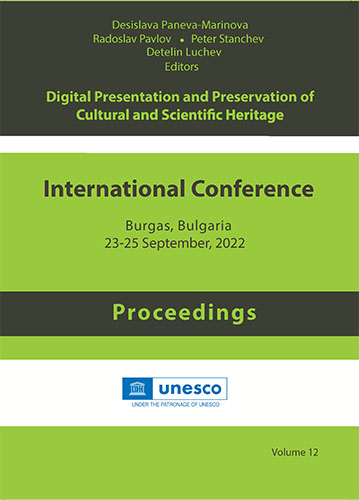 Downloads
How to Cite
Todorov, T., & Lutfiu, S. (2022). Cyber Risk Assessment Principles for Modern Digital Museums. Digital Presentation and Preservation of Cultural and Scientific Heritage, 12, 235–242. https://doi.org/10.55630/dipp.2022.12.20