Accessibility Challenges with CAPTCHA Services in Digital Libraries
Keywords:
Accessibility, CAPTCHA, Digital Libraries
Abstract
In the paper are discussed security problems related to online digital libraries and portals. Special attention is placed to one the methods to distinguish usage of online digital libraries from non-human users. The approaches known under the abbreviation CAPTCHA (Completely Automated Public Turing test to tell Computers and Humans Apart) are considered in the context of their accessibility to the users with different types of disabilities.
References
Digital Accessibility. (2021). Retrieved June 11, 2022, from How To Make CAPTCHA Accessible To Everyone: https://www.boia.org/blog/how-to-make-captchaaccessible-to-everyone
Dochkova-Todorova, J., Varbanova, S., & Stoeva, A. (2018). Technologies for mathematics and informatics students with vision loss. Pedagogical Almanac , 6(2), 231- 219.
Gafni, R. (2016). The Effect of CAPTCHA on User Experience among Users with and without Learning Disabilities.
Georgieva-Tsaneva, G., & Subev, N. (2018). Technologies, standards, and approaches to ensure web accessibility for visually impaired people. Digital Presentation and Preservation of Cultural and Scientific Heritage, Volume 8 , pp. 143 – 149.
Gospodinov, M., & Gospodinova, E. (2019). Implementing a web-based application for analysis and evaluation of heart rate variability using serverless architecture. International Journal on Advanced Science, Engineering and Information Technology, Volume 9, Issue 6 , 1927 – 1935.
Grigorova, V., Sotirova, K., Naoumova, V., Sameva, A., Dobreva, M., Ivanova, K., & Stanchev, P. (2012). Digitization of Old Mathematical Periodicals Published by the Institute of Mathematics and Informatics, Bulgarian Academy of Sciences. Digital Presentation and Preservation of Cultural and Scientific Heritage. Vol. 2 , pp. 222- 227.
Inaccessibility of CAPTCHA. (2021). Retrieved June 11, 2022, from https://www.w3.org/TR/turingtest/
Kaur, H. (2015). Role of Digital Libraries in the Present Era: Challenges and Issues. (S. Thanuskodi, Ed.) Handbook of Research on Inventive Digital Tools for Collection Management and Development in Modern Libraries , pp. 86-102.
Kulkarni, S., & Fadewar, H. (2018). Audio CAPTCHA Techniques: A Review.
Moreno, L., González, M., & Martínez, P. (2014). CAPTCHA and Accessibility - Is This the Best We Can Do? WEBIST.
Paneva-Marinova, D., Scarpa, M., Riparante, M., Goynov, M., Luchev, D., Pavlova, L., & Zlatkov, L. (2022). Machine-readable Descriptive Structures to Study Medieval South Slavic Scriptoria and Scribes. TEM journal, 11( ), 675-682. doi:10.18421/TEM112-22.
Luchev, D., Paneva- Marinova, D., Pаvlov, R., Pavlova, L., Márkus, Zs. L., Kaposi, G., Szkaliczki, T., & Veres, M. (2017). Presenting Bulgarian Cultural and Historical Sites with Panorama Pictures. Digital Presentation and Preservation of Cultural and Scientific Heritage. Conference Proceedings, 7 , pp. 113-122.
reCAPTCHA v3. (2021). Retrieved June 11, 2022, from https://developers.google.com/recaptcha/docs/v3
Sonnenberg, C. (2020). E-Government and Social Media: The Impact on Accessibility. Journal of Disability Policy Studies, 31(3) , 181-191.
Tangmanee, C. (2016). Effects of Text Rotation, String Length, and Letter Format on Text-based CAPTCHA Robustness. Journal of Applied Security Research, 11(3) , 349-361.
Todorova-Ekmekci, M. (2021). Using Innovative Technologies, Digital Media and Site Tools for Presentation and Sustainable Preservation of Cultural Heritage. ISMSIT 2021 - 5th International Symposium on Multidisciplinary Studies and Innovative Technologies, Proceedings , pp. 135 – 140.
W3C, World Wide Web Consortium. (n.d.). Retrieved June 11, 2022, from https://www.w3.org
WAI, Web Accessibility Initiative. (n.d.). Retrieved June 11, 2022, from https://www.w3.org/WAI/
WCAG 2. (2005). Retrieved June 11, 2022, from https://www.w3.org/WAI/standardsguidelines/wcag/
Web Access. (2016). Retrieved June 11, 2022, from https://webaccess.horizonti.bg/aggregator/sources/1
Web Authentication. (2019). Retrieved June 11, 2022, from An API for accessing Public Key Credentials Level 1. W3C Recommendation: https://www.w3.org/TR/webauthn-1/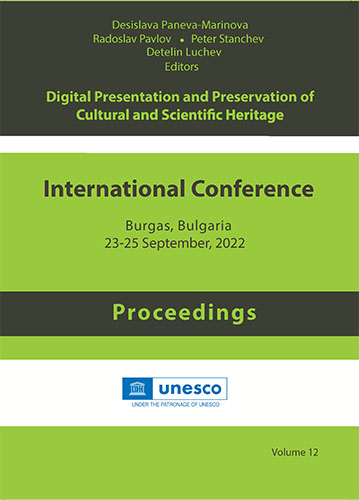 Downloads
How to Cite
Todorov, T., Bogdanova, G., & Noev, N. (2022). Accessibility Challenges with CAPTCHA Services in Digital Libraries. Digital Presentation and Preservation of Cultural and Scientific Heritage, 12, 255–262. https://doi.org/10.55630/dipp.2022.12.23