Web-based System for Digital Presentation, Management and Preservation of Bulgarian Language Heritage
Keywords:
bilingual dictionaries, parallel corpora, language resources, information retrieval, data extraction, data mining, intangible cultural heritage, Bulgarian language
Abstract
The paper briefly describes a web-based software system for presentation, processing and management of Bulgarian language resources as a part of the Bulgarian cultural heritage. The system will be available in the cyberspace. It allows an open access through the global network to the well-structured digital language data - bilingual dictionary and parallel corpora. The structure and main functionalities of the system, implemented as a set of web-applications, are presented.
References
R. Dutsova, (2014) : Web- based Software System for Preservation of Language Cultural Heritage. In: Proc. of the International Conference "Digital Presentation and Preservation of Cultural and Scientific Heritage", pp. 165-172 , Veliko Tarnovo, Bulgaria
R. Dutsova, (2014): Web-based Software System for Processing Bilingual Digital Resources. In: J. Cognitive Studies/Études Cognitives. Vol. 14, pp. 45-55, SOW, Warsaw, Poland
L. Dimitrova, R. Dutsova, (2013): Web-Application for the Presentation of Bilingual Corpora (Focusing on Bulgarian as One of the Paired Languages) . In: J. Cognitive Studies/Études Cognitives. Vol. 13, SOW, pp. 183-193 , Warsaw, Poland
R. Dutsova, D. Dimitrova, (2013). Software System for Processing Bulgarian Digital Resources: Parallel Corpora and Bilingual Dictionaries. In: Proc. of the Seventh International Conference Natural Language Processing, Corpus Linguistics, E-learning SLOVKO'2013 , 13-15 November 2013, pp. 40-50 , Bratislava, Slovakia
R. Dutsova, (2013): Web- application for Presentation of Bulgarian Language Heritage: Bilingual Digital Corpora and Dictionaries. In: Proc. of the International Conference "Digital Presentation and Preservation of Cultural and Scientific Heritage", pp. 99-108 , Veliko Tarnovo, Bulgaria
R. Dutsova, (2012): Online Dictionary – Tool for Preservation of Language Heritage. In: Proc. of the International Conference "Digital Presentation and Preservation of Cultural and Scientific Heritage", pp. 142-151 , Veliko Tarnovo, Bulgaria
Dimitrova, L., Dutsova, R. (2012): Implementation of the Bulgarian-Polish Online Dictionary. In: J. Cognitive Studies/Études Cognitives. Vol. 12, SOW, Warsaw, pp. 219-229
L. Dimitrova, R. Dutsova, R. Panova, (2011): Survey on Current State of Bulgarian-Polish Online Dictionary. In: Proc. of the International Workshop "Language Technology for Digital Humanities and Cultural Heritage" within RANLP'2011, 16 September 2011, Hissar, Bulgaria, pp. 43-50
L. Dimitrova, R. Panova, R. Dutsova, (2009): Lexical Database of the Experimental Bulgarian-Polish online Dictionary. In: Proc. of the MONDILEX Third Open International Workshop, 15 – 16 April, Bratislava, Slovakia, 2009, pp. 36-47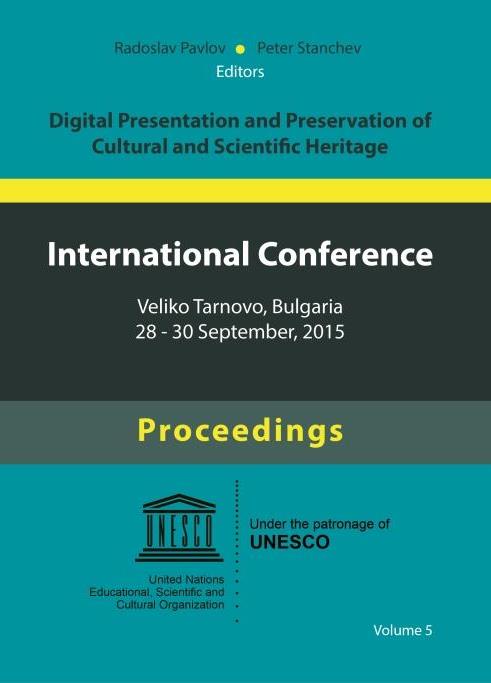 Downloads
How to Cite
Dutsova, R. (2015). Web-based System for Digital Presentation, Management and Preservation of Bulgarian Language Heritage. Digital Presentation and Preservation of Cultural and Scientific Heritage, 5, 189–194. https://doi.org/10.55630/dipp.2015.5.16