Methods and Models for Building an Interface for Digital Information Infrastructure Smart Gallery
Keywords:
Multimodal Interface, Smart Gallery, Exhibitions, Digital Resources, Cultural Heritage
Abstract
This paper aims to demonstrate some solutions of a new method for constructing modal interfaces for information structure of a smart Gallery, which allows using the context-oriented calculations and subject-oriented knowledge base to offer the user the most suitable interface, based on available resources, situations, context, preferences and constraints. The developed foundations are based on subject-oriented knowledge bases.
References
Adomavicius, G. (2019). Context-aware recommender systems. AI Magazine, vol. 32(3) , pp. 67–80.
Ambrosino, G., Boero, J., Nelson, M. (2020). Infomobility Systems and sustainable transport services. ENEA .
Boccardo, P., Arneodo, F. & Botta, D. (2019). Application of geomatic techniques in infomobility and intelligent transport systems. European Journal of Remote Sensing (vol. 47, Issue 1), pp. 95-115.
Bui, V., Brandt, P., Liu, H., Basten, T. & Lukkien, J. (2016). Semantic Interoperability in Body Area Sensor Networks and Applications. 9th International Conference on Body Area Networks , (pp. pp. 210-216). Great Britain.
Carminati, B., Ferrari, E., Heatherly, R., Kantarcioglu, M. & Thuraisingham, B. (2021). Semantic web-based social network access control. Comp. & Security (vol. 30, issues 2–3), pp. 108–115.
Castano, S., Ferrara, A. & Montanelli, S. (2018). H-Match: an Algorithm for Dynamically Matching Ontologies in Peer-based Systems. Proc. of the 1st VLDB Int. Workshop on Semantic Web and Databases.
Genova, I. (2012). Possible History of Bulgarian Art ISBN 978-954-92416-31. Sofia: Sofia City Art Gallery.
Hanif, M.S. & Aono, M. (2019). An efficient and scalable algorithm for segmented alignment of ontologies of arbitrary size. Journal of Web Semantics., Elsevier, Vol. (no. 4), pp. 344-356.
Honkola, J., Laine, H., Brown, R. & Tyrkko O. (2020). Smart-M3 Information Sharing Platform. Proceedingsof the IEEE Symp. Computers and Communications (ISCC'10) , (pp. pp. 1041-1046).
Liuha, P., Lappeteläine, A. & Soininen, J.P. (2020). Smart Objects for Intelligent Applications. ARTEMIS magazine , pp. 27-29.
Zhelyazkov, Y. (2019). Survey and analysis of the influence of electromagnetic interference on transmission parameters of twisted pair cables used in the construction of communication networks. Announcements of union of scientists – Sliven, volume 34 (1).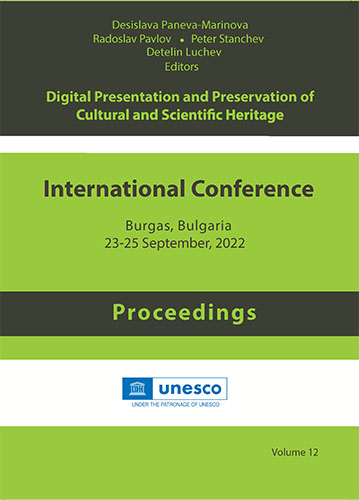 Downloads
How to Cite
Simeonov, S., & Gospodinova, E. (2022). Methods and Models for Building an Interface for Digital Information Infrastructure Smart Gallery. Digital Presentation and Preservation of Cultural and Scientific Heritage, 12, 161–170. https://doi.org/10.55630/dipp.2022.12.13