Mini-symposium on Future Trends in Serious Games for Cultural Heritage
Keywords:
Serious Games, Gamification, Contextually-related Culture and Media Resources for Education
Abstract
In combination with the appropriate content, serious games become an important modern-day educational tool, which reflects both the current state of technology and learners' social profiles. The method helps instructors to motivate student learning, curiosity, creative and logical thought, as well as develop a variety of skills and competencies. Serious educational games aim to cultivate better comprehension strategies, creative thinking, learning-by-doing (production, authorship), and students' engagement in their own cognition and learning processes. This mini-symposium on Future Trends in Serious Games for Cultural Heritage will present outcomes of the Serious Education Games as Contemporary Tools for New Educational Applications project, Contract DSD- 2/05.04.2017, between the Bulgarian Academy of Sciences and the Institute of Mathematics and Informatics, activity Introduction of Contemporary Methods in Educating and Fostering Young Talent (PMC No 347), other projects in the field and will outline some future trends for cultural heritage game development.
References
Bontchev, B., Paneva-Marinova, D., & Draganov, L. (2016). Educational Video Games for Bulgarian Orthodox Iconography. Proceedings of 9th Annual International Conference of Education, Research and Innovation (ICERI2016) , (pp. 1679-1688). Seville, Spain.
Draganov, L., Paneva-Marinova, D., Pavlova, L., Luchev, D., Márkus, Z., Szántó, G., & Szkaliczki, T. (2015). Technology-enhanced learning for cultural heritage. In R. Pavlov, & P. Stanchev (Ed.), Proceedings of the 5th International Conference on Digital Presentation and Preservation of Cultural and Scientific Heritage. , pp. 293-301. Veliko Tarnovo, Bulgaria: Institute of Mathematics and Informatics - BAS. Retrieved March 25, 2018, from http://dipp.math.bas.bg
Márkus, Z. L., Paneva-Marinova, D., & Luchev, D. (2018). Towards Effective Understanding of Ancient Thracian Civilization by Serious Game, 24th Conference of Multimedia in Education (http://www.mmo.njszt.hu/), Budapest, Hungary, 31 may- June, 2018, pp. 223-227, ISBN: 978-615-5036-13-2, DOI: 10.26801/MMO.2018.1.24
Márkus, Z. L., Weisz, Z., Kaposi, G., Veres, M., Szkaliczki, T., Paneva-Marinova, D., Pavlov, R., Luchev, D., & Goynov, M. (2018). Multiplatform-based Game Development, Management and Presentation Tool for Supporting New Methods of Interactive Learning, Opening Conference of Resilient Cultural Heritage and Communities in Europe (REACH) project , May 2018, Hungarian National Museum, Budapest, Hungary. http://files.elearning.sztaki.hu/demo/2018_GAtH_Game_portal_demo_EN_Reach_conference.mp4 (accessed on 11.05.2018)
Paneva-Marinova, D., ., Pavlov, R., Luchev, D., Goynov, M., Márkus, Z. L., Weisz, Z., Kaposi, G., Veres, M., Szkaliczki, T. (2018a). Bridging the Gap between Ancient Thracian Cultural Heritage and Modern Youth through Serious Games, Opening Conference of Resilient Cultural Heritage and Communities in Europe (REACH) project , May 2018, Hungarian National Museum, Budapest, Hungary. http://files.elearning.sztaki.hu/demo/2018_GAtH_Thracian_game_demo_EN_Reach_conference.mp4 (accessed on 11.05.2018)
Paneva-Marinova, D., Rousseva, M., Pavlov, R., & Luchev, D.. (2018b). The Ancient Thracian Civilization and Modern Youth Convergence by Serious Games. Proceedings of the 10th annual International Conference on Education and New Learning Technologies, Palma de Mallorca, Spain, 2nd - 4th of July, 2018., 2018, ISBN:978- 84-09-02709-5, 3940-3945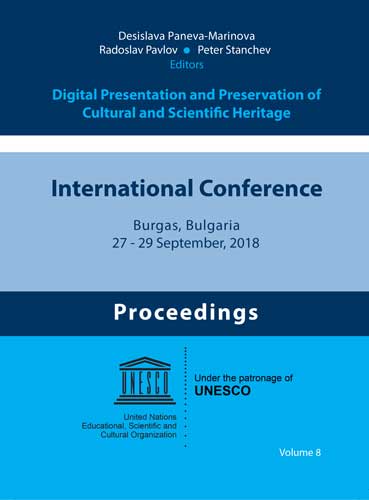 Downloads
How to Cite
Paneva-Marinova, D., & Pavlov, R. (2018). Mini-symposium on Future Trends in Serious Games for Cultural Heritage. Digital Presentation and Preservation of Cultural and Scientific Heritage, 8, 241–244. https://doi.org/10.55630/dipp.2018.8.25
Section
Workshops and Information Days