INFO@HAND: Mobile Application for Conference Series
Keywords:
Mobile Applications, Conference Guide, Conference Archive, Event Calendar
Abstract
The paper presents an offline mobile application (INFO@HAND) providing information about the DIPP conference series for conference participants and scientists interested in the conference scope and topics. In order to support the participants of the international conference, the application contains an event calendar, provides information about the presentations (including the abstracts as well), the presenters, locations and the organiser(s), presents the call for papers and the important deadlines, a map with the conference locations, etc. The offline application is more than a conference guide because it can also present conference materials (presenters and papers) of the preceding years, thereby representing a scientific knowledge base.
References
INFO@HAND DIPP http://guideathand.com/en/content/dipp
iOS link: https://itunes.apple.com/us/app/dipp/id959954374?l=hu&ls=1&mt=8; Android link: https://play.google.com/store/apps/details?id=hu.sztaki.infoathand_dipp
G. Kaposi, T. Szkaliczki, Z. Márkus, D. Luchev, M. Goynov, D. Paneva-Marinova; Mobile Exploring of the Bulgarian Iconography through QR Codes in the GUIDE@HAND Tourist Guide Application. In the Proceedings of UNESCO International Conference on Digital Presentation and Preservation of Cultural and Scientific Heritage, September 18- 21, 2013, Veliko Tarnovo, Bulgaria, pp. 44-52, ISSN: 1314-4006.
Z. Márkus, B. Wagner; GUIDE@HAND: Digital GPS Based Audio Guide that Brings the Past to Life. In the Proceedings of International Conference on Digital Presentation and Preservation of Cultural and Scientific Heritage, Vol. 1, No 1, (2011), pp. 15-25
Central and Eastern European Online Library (CEEOL)—http://www.ceeol.com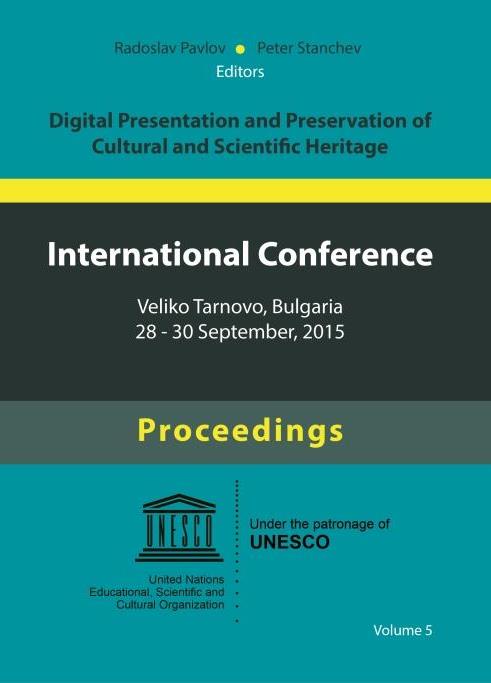 Downloads
How to Cite
László Márkus, Z., Kaposi, G., Szántó, G., Szkaliczki, T., Veres, M., Weisz, Z., Routsalainen, W., Luchev, D., & Pavlov, R. (2015). INFO@HAND: Mobile Application for Conference Series. Digital Presentation and Preservation of Cultural and Scientific Heritage, 5, 219–226. https://doi.org/10.55630/dipp.2015.5.19