Towards Wider Sharing of Iconographical Art Content
Keywords:
Digital Libraries, Services, Sharing, Social Network, Facebook, Iconography
Abstract
Information and multimedia technologies that have been developed during the past couple of years provided new e-tools to memory institutions (viz. museum, libraries, galleries, etc.), reviving the valuable treasure made by generation of people. Digital libraries (DLs) are such powerful contemporary tools for cultural heritage presentation, preservation and archiving. However, DLs power will increase significantly if they use mechanisms for ubiquitous sharing of their e-artefacts and they distribute attractive content in the social networks, reflecting community demands and needs. This paper presents a service for automatic sharing of iconographical artefacts and full collections from the Bulgarian Iconographical Digital Library to selected Facebook communities. In this case the service will be used for widely promotion of knowledge about East-Christian Iconographical Art and Culture, but I could be used not only for this and not only in this domain.
References
Paneva-Marinova, D., R. Pavlov, M. Goynov, (2012), Two Integrated Digital Libraries for Knowledge and Iconography of Orthodox Saints, In the Proceedings of the International Conference on Digital Heritage, In: M. Ioannides et al. (Eds.): EuroMed 2012 (Oct. 29 – Nov 3, 2012, Lemesol, Cyprus), LNCS 7616, pp. 684--691. Springer, Heidelberg.
Pavlov, R., G. Bogdanova, D. Paneva-Marinova, T. Todorov, K. Rangochev (2011), Digital Archive and Multimedia Library for Bulgarian Traditional Culture and Folklore, International Journal "Information Theories and Applications", 2011, Vol.18, No 3, pp. 276- 288.
Pavlova-Draganova, L., D. Paneva-Marinova, R. Pavlov, R., M. Goynov, (2010), On the Wider Accessibility of the Valuable Phenomena of Orthodox Iconography through Digital Library. In: 3rd International Conference dedicated on Digital Heritage (EuroMed 2010), pp. 173-178. Lymassol, Cyprus.
Pavlova-Draganova, L., D. Paneva-Marinova, R. Pavlov, (2011), Ontological Presentation of East-Christian Iconographical Art Domain. International Journal "Serdica Journal of Computing", 2011, Vol. 2, pp. 101-114.
Rangochev, K., M. Dimitrova, D. Paneva-Marinova, (2012), Medieval Sources and Present-Day Folklore Materials on Saints in an Electronic Encyclopedia, In: Proceedings of the Second International Conference on Digital Presentation and Preservation of Cultural and Scientific Heritage, September 18-21, 2012, Veliko Tarnovo, Bulgaria, pp. 172-176.
Bogdanova G., N. Noev, K. Stoffel, T. Todorov, (2011), 3D Modeling of Valuable Bulgarian Bells and Churches, Mathematica Balkanica, NewSeries Vol. 25, 2011, ISSN 0205- 3217, Fasc. 5, pp. 475-482.
Bogdanova G., Todorov T., Noev N., (2013), Digitization and 3D Scanning of Historical Artifacts, International Conference Digital Preservation and Presentation of Cultural and Scientific Heritage - DiPP`13, Veliko Tarnovo, Bulgaria, pp. 133-138.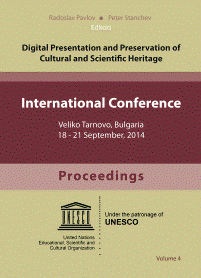 Downloads
How to Cite
Paneva-Marinova, D., Goynov, M., & Luchev, D. (2014). Towards Wider Sharing of Iconographical Art Content. Digital Presentation and Preservation of Cultural and Scientific Heritage, 4, 127–134. https://doi.org/10.55630/dipp.2014.4.14