Business Modeling of the Application Architecture of the Bulgarian Folklore Artery
Keywords:
Business Modeling, Information Portal, Bulgarian Folklore
Abstract
In an attempt to answer the need of wider accessibility and popularization of the treasury of Bulgarian folklore, a team from the Institute of Mathematics and Informatics at the Bulgarian Academy of Sciences has planned to develop the Bulgarian folklore artery within the national project ―Knowledge Technologies for Creation of Digital Presentation and Significant Repositories of Folklore Heritage‖. This paper presents the process of business modeling of the application architecture of the Bulgarian folklore artery, which aids requirements analysis, application design and its software implementation. The folklore domain process model is made in the context of the target social applications — e-learning, virtual expositions of folklore artifacts, research, news, cultural/ethno-tourism, etc. The basic processes are analyzed and modeled and some inferences are made for the use cases and requirements specification of the Bulgarian folklore artery application. As a conclusion the application architecture of the Bulgarian folklore artery is presented.
References
Bogdanova, G., Todorov, T., Noev, N.: Digitalization and Security of "Bulgarian Folklore Heritage" Archive, CompSysTech, ACM International Conference Proceeding Series (ICPS) vol. 471, pp. 335-340, Sofia, Bulgaria (2010)
Bogdanova, G., Todorov, T., Georgieva, Ts.: New Approaches for Development, Analyzing and Security of Multimedia Archive of Folklore Objects, Computer Science Journal of Moldova, vol. 16, 2(47), pp. 183-208 (2008)
Davis, R.: Business Process Modeling with ARIS: a Practical Guide, Springer (2001)
IBM team: Rational Unified Process Best Practices for Software Development Teams. Rational Software White Paper TP026B, Rev 11/01 (2003)
Paneva-Marinova, D., Pavlov, R., Rangochev, K., Luchev, D., Goynov, G.: Toward an Innovative Presentation and Creative Usage of the Bulgarian Folklore Wealth. Information Technologies and Knowledge, 3(1), 56 — 66 (2009)
Paneva-Marinova, D., Pavlov, R., Rangochev, K.: Digital Library for Bulgarian Traditional Culture and Folklore. In: 3rd International Conference dedicated on Digital Heritage, pp. — 172. ARCHAEOLINGUA, Lymassol, Cyprus (2010)
Rangochev, K.: Bulgarian Folklore Digital Library: Ontology and Architecture. In: Arnaudov Edition, Vol. 2, 235 — 242. LENI-AN Publisher, Ruse (2010)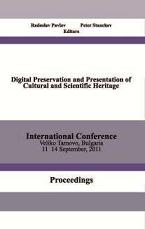 Downloads
How to Cite
Paneva-Marinova, D., Rangochev, K., & Goynov, M. (2011). Business Modeling of the Application Architecture of the Bulgarian Folklore Artery. Digital Presentation and Preservation of Cultural and Scientific Heritage, 1, 43–50. https://doi.org/10.55630/dipp.2011.1.5