The Impact of Cloud Technologies on Preserving and Promoting Cultural Identity
Keywords:
Cloud Technologies, Digitalization, Cultural Heritage, Cultural Identity
Abstract
This study explores cloud technologies' role in cultural preservation and promotion, analyzing accessibility, collaboration, and cost-effectiveness. The paper identifies challenges, including the digital divide and cyber-security concerns, and emphasizes addressing them to harness cloud technologies' full potential in cultural heritage initiatives.
References
Borowiecki, K. J., & Navarrete, T. (2017). Digitization of heritage collections as indicator of innovation. Economics of Innovation and New Technology, 26(3) , 227- 246. https://doi.org/10.1080/10438599.2016.1164488
Cameron, F., & Kenderdine, S. (210). Theorizing Digital Cultural Heritage. A Critical Discourse.
Dallas, C. (2016). Digital curation beyond the "wild frontier": a pragmatic approach. Archival Science, 16 , 421-457. https://doi.org/10.1007/s10502-015-9252-6
European Commission, Directorate-General for Research and Innovation, Brunet, P., De Luca, L., Hyvönen, E., et al. (2022). Report on a European collaborative cloud for cultural heritage : ex – ante impact assessment. Publications Office of the European Union . https://data.europa.eu/doi/10.2777/64014
Graham, M., & Zook, M. (2013). Augmented Realities and Uneven Geographies: Exploring the Geolinguistic Contours of the Web. Environment and Planning A: Economy and Space, 45(1) , 77-99. https://doi.org/10.1068/a44674
Helmbrecht, U. (2010). Cloud computing speech. https://www.enisa.europa.eu/media/news-items/cloud-computingspeech
Madhi (Kacollja), A., Shqau, G., & Lekaj, A. (2014). Analysis of Costs and Benefits of Cloud Computing. Academic Journal of Interdisciplinary Studies, 3(3), 259-268. https://www.richtmann.org/journal/index.php/ajis/article/view/3417
Mell, P., & Grance, T. (2011, September). The NIST Definition of Cloud Computing. NIST Special Publication 800-145. https://doi.org/10.6028/NIST.SP.800-145
NIST Cloud Computing. (2013). Standards Roadmap. Special Publication 500-291, Version . https://www.nist.gov/system/files/documents/itl/cloud/NIST_SP-500- 291_Version-2_2013_June18_FINAL.pdf
Oomen, J., & Aroyo, L. (2011). Crowdsourcing in the cultural heritage domain: Opportunities and challenges. In Proceedings of the 5th International Conference on Communities and Technologies (C&T '11) (138–149) . Association for Computing Machinery. https://doi.org/10.1145/2103354.2103373
Pierotti, M. (2016). Making cultural heritage data accessible and reusable: Europeana's open data strategy. In L. M. (Eds.), Heritage and social media: Understanding heritage in a participatory culture (pp. 120-140). Routledge.
Sultan, N. (2010). Cloud computing for education: A new dawn? International Journal of Information Management, (2), 109-116. https://doi.org/10.1016/j.ijinfomgt.2009.09.004
Warschauer, M. (2004). Technology and Social Inclusion: Rethinking the Digital Divide. The MIT Press. https://doi.org/10.7551/mitpress/6699. .0001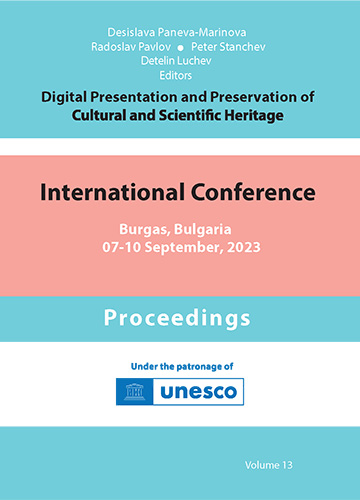 Downloads
How to Cite
Peteva, I., Pavlova, D., & Pavlova, I. (2023). The Impact of Cloud Technologies on Preserving and Promoting Cultural Identity. Digital Presentation and Preservation of Cultural and Scientific Heritage, 13, 269–274. https://doi.org/10.55630/dipp.2023.13.26