Digital Health: A Web-based Repository with Back School Recommendations and Exercises against Paravertebral Pain (with a Comparative Study of the Opinions of Responders of Different Generations)
Keywords:
Digital Health, Electronic Repository, Rehabilitation, Back Pain, Paravertebral Pain, Back School, Exercises
Abstract
Digital Health (DH) is a relatively new concept for our country. The current article is oriented to the application of DH technologies for the prevention of paravertebral pain, by a web-based repository. In the repository, we included Back school recommendations, position techniques, exercises, activities, sports, and clinical cases of our own rehabilitation practice.
References
Arapi, P., Paneva-Marinova, D., Pavlov, R., & Christodoulakis, S. (2016). Techniques to Personalized Observation and Improved Learning in Digital Libraries. In Proceeding of the International Conference on e-Learning (e -Learning'16), Slovak University of Technology, Bratislava, Slovakia (pp. 94-100).
Carretero Gomez, S., Vuorikari, R., & Punie, Y. (2017). DigComp 2.1.: The Digital Competence Framework for Citizens with eight proficiency levels and examples of use. Publication Office of the European Union. https://doi.org/10.2760/38842
Fadahunsi, K. P., O'Connor, S., Akinlua, J. T., Wark, P. A., Gallagher, J., Carroll, C., Car, J., Majeed, A., & O'Donoghue, J. (2021). Information Quality Frameworks for Digital Health Technol;ogies: Systematic Review. Journal of Medical Internet Research, 23 (5), Article e23479. https://doi.org/10.2196/23479
Halkal, Rachmany, E., Nugroho, B. Y. S., Iqbal, M., & Nirmalasari, D. A., & Isworo, S. (2022). Development of Digital Health Literacy Instruments for students of the Faculty of Health Science, Universitas Dian Nuswantoro. Journal of Scientific Research and Reports, (10), 51-62. https://doi.org/10.9734/jsrr/2022/v28i1030557
Karr, D. (2023, January 31). Generational Marketing: How Each Generation Has Adapted To and Utilizes Technology . Martech Zone. https://martech.zone/generation-technology/
Koleva, I. B. (2019). Interdisciplinary approach towards analgesia in low back pain and lumbosacral radiculopathy: Impact of paravertebral infiltrations, laser therapy and deep oscillation (a comparative study of five rehabilitation complexes). International Journal of Anesthesiology & Pain Medicine, , 21-22. https://doi.org/10.21767/2471-982X-C1-004
Koleva, I., & Avramescu, T. (Eds.) (2017). Grasp and Gait Rehabilitation. SIMEL Press.
Koleva, I., Krastev, N., & Yoshinov, R. (2015). Impact of balneotherapy and peloidotherapy in neurorehabilitation algorithm of patients with low back pain and lumbosacral radiculopathy – a comparative study. Balnea - Serie de Monografias, , 87-88.
Koleva, I., Yoshinov, B., & Yoshinov, R. (2018). Perspectives in Pain Management: Physical analgesia. Opinion article. Medical Journal of Clinical Trials & Case Studies, 2 (2), 1-3.
Koleva, I., Yoshinov,. R. D., & Yoshinov, B. (2018). Physical analgesia. Connaissances et savoirs - Science Santé.
Kujala, S., Horhammer, I., Kaipio, J., & Heponiemi, T. (2018). Health professionals' expectations of a national patient portal for self-management. International Journal of Medical Informatics, 117 , 82-87. https://doi.org/10.1016/j.ijmedinf.2018.06.005
Paneva-Marinova, D., Goynov, M., Pavlov, R. (2017). Personalized Observation and Enhanced Learning Experience in Digital Libraries. In Proceedings of ICERI 2017 (pp. 1941-1950). IATED Academy.
Ronquillo, Y., Meyers, A., Korvek, S. J. (2022). Digital Health. StatPearls Publishing. Retrieved March 10, 2023, from https://ncbi.nlm.nih.gov
Vogels, E. A., Gelles-Watnick, R., & Massarat, N. (2022). Teens, Social Media and Technology . Pew Research Center. https://www.pewresearch.org/internet/2022/08/10/teens-social-media-and-technology-2022/
WHO. (2016). Global diffusion of eHealth: Making Universal Health Coverage Achievable. Report of the Third Global Survey on eHealth. World Health Organization.
WHO. (2019). WHO Guideline: Recommendations on Digital Interventions for Health System Strengthening. World Health Organization.
Woods, L., Cummings, E., Duff, J., Walker, K. (2018). Partnering in Digital Health Design: Engaging the Multidisciplinary Team in a Needs Analysis. Studies in Health Technology and Informatics, 252 , 176-181.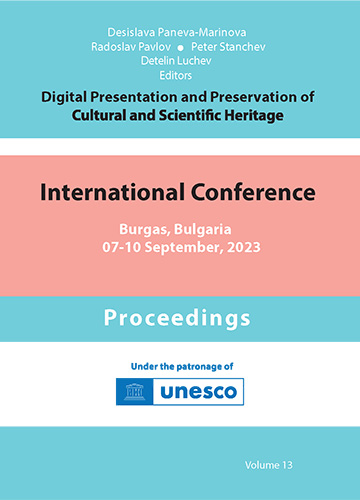 Downloads
How to Cite
R. Yoshinov, R., R. Yoshinov, B., & B. Koleva, I. (2023). Digital Health: A Web-based Repository with Back School Recommendations and Exercises against Paravertebral Pain (with a Comparative Study of the Opinions of Responders of Different Generations). Digital Presentation and Preservation of Cultural and Scientific Heritage, 13, 251–260. https://doi.org/10.55630/dipp.2023.13.24