Modern Challenges in Machine Learning and Artificial Intelligence
Keywords:
Machine Learning, Artificial Intelligence, AI Acceptance, Bias in Data
Abstract
The usage and development of Machine Learning models along with the advancement and popularization of Artificial Intelligence, naturally leads to new challenges in multiple levels in the field. In one hand the trust in the field of AI needs to be boosted in order to increase the adoption rate, on the other hand the usage of AI has been largely abused by those who decided to adopt the term in their line of work. A clear line of what is expected from AI and what AI is, must be drawn so that the trust, acceptance and adoption of AI can be increased. These, and other data related problems are the primary subject of this paper.
References
Ananthaswamy, A. (2021, April 19). Latest Neural Nets Solve World's Hardest Equations Faster Than Ever Before . Retrieved from Quantamagazine.org: https://www.quantamagazine.org/new-neural-networks-solve-hardest-equationsfaster-than-ever-20210419/
BCG. (2020, October 20). Annual MIT Sloan Management Review—Boston Consulting Group Study Finds Significant Financial Benefits with AI Are Noticeably Amplified When Organizations Develop Multiple Effective Ways for Humans and AI to Learn Together . Retrieved from BCG: https://www.bcg.com/en-za/press/20october2020study-finds-significant-financial-benefits-with-ai
Daniel Tencer. (2017, July 14). 85% Of Jobs That Will Exist In 2030 Haven't Been Invented Yet: Dell . Retrieved from Huffingtonpost.ca: https://www.huffingtonpost.ca/2017/07/14/85-of-jobs-that-will-exist-in-2030haven-t-been-invented-yet-d_a_23030098/
Jonathan Vanian. (2019, October 15). Why Most Companies Are Failing at Artificial Intelligence: Eye on A.I. Retrieved from Fortune.com: https://fortune.com/2019/10/15/why-most-companies-are-failing-at-artificialintelligence-eye-on-a-i/
Larrazabal, A. J., Nieto, N., Peterson, V., Milone, D. H., & Ferrante, E. (2020, June 09). Gender imbalance in medical imaging datasets produces biased classifiers for computer-aided diagnosis. Proceedings of the National Academy of Sciences of the United States of America, 117 (23), 12592-12594.
Louis Columbus. (2018, January 12). 10 Charts That Will Change Your Perspective On Artificial Intelligence's Growth . Retrieved from Forbes.com: https://www.forbes.com/sites/louiscolumbus/2018/01/12/10-charts-that-willchange-your-perspective-on-artificial-intelligences-growth/?sh=ae121bb47583
Lu, L., Pengzhan, J., & Karniadakis, G. E. (2019, October 08). DeepONet: Learning nonlinear operators for identifying differential equations based on the universal approximation theorem of operators . Retrieved from Cornell University: https://arxiv.org/abs/1910.03193v3
Schwemmer, C., Knight, C., Bello-Pardo, E. D., Oklobdzija, S., Schoonvelde, M., & Lockhart, J. W. (2020, November 11). Diagnosing Gender Bias in Image Recognition Systems. Socius: Sociological Research for a Dynamic World, 6 , 1-17.
Shanhong Liu. (2021, April 16). Global total corporate artificial intelligence (AI) investment from to . Retrieved from Statista.com: https://www.statista.com/statistics/941137/ai-investment-and-funding-worldwide/
Smith, D. W. (2013, November 16). Phenomenology . Retrieved from Stanford Encyclopedia of Philosophy: https://plato.stanford.edu/entries/phenomenology/#WhatPhen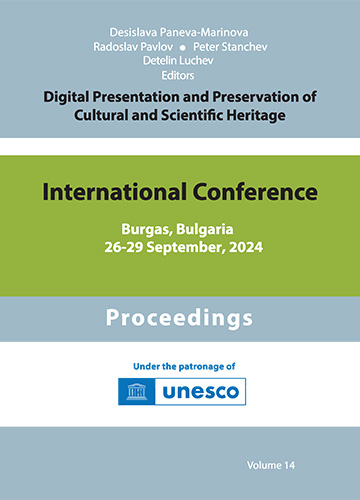 Downloads
How to Cite
I. Iliev, A. (2021). Modern Challenges in Machine Learning and Artificial Intelligence. Digital Presentation and Preservation of Cultural and Scientific Heritage, 11, 33–40. https://doi.org/10.55630/dipp.2021.11.2