3D-Reconstruction of the Complex Stuccoes from Patrimony Buildings
Keywords:
3D Scanning, Stucco, EXAscan Portable 3D Laser Scanner
Abstract
The paper deals with 3D scanning techniques and instruments to survey the complex stuccoes from the architectural building Nanu-Muscel from Bucharest. EXAscan Portable 3D Laser Scanner has been used to exploit the advantages of the 3D surveying techniques and produce digital models and other geometric representations useful for the protection of historic architectures and a correct solution for their restoration. After the parameterization, the scanning of two stucco-objects surface yielded to a network of points. The program analyzes the points and joins them, so the final result being the scanned object in electronic format (digitized), by "Digitized Shape Editor" module in the Catia program. The not useful surfaces have been removed and for the symmetrical reconstruction the mirroring operation was applied.
References
Addison, A., & Alonzo, C. (2006). The Vanishing Virtual: Safeguarding Heritage's Endangered Digital Record. In T. K. Kalay (Ed.), Proceedings of New Heritage: Beyond Verisimilitude (pp. 36-48). London: Routledge.
Bosche, F., & Haas, C. (2008). Automated retrieval of 3D CAD model objects in construction range images,. Automation in Construction , 499-512.
Brătescu, G. (1977). Personalităti ale stiintei: mic dictionar. Bucharest: Editura Stiintifică si Enciclopedică.
Datta, S. (2001). Digital reconstructions and the geometry of temple fragments. The Proceedings of the 2007 international conference on digital applications in cultural heritage (pp. 443-452). Tainan: Tainan : The National Center for Research and Preservation of Cultural Properties.
Fontana, R., Greco, M., Materazzi, M., Pampaloni, E., Pezzati, L., Rocchini, C., & al., e. (2002). Three-dimensional modelling of statues: the Minerva of Arezzo. Journal of Cultural Heritage, 3 (4), 325-331.
Pieraccini, M., Guidi, G., & Atzeni, C. (2001). 3D digitizing of cultural heritage. Journal of Cultural Heritage , 63-70.
Remondino, F., & El-Hakim, S. (2006). Image based 3D Modelling : A Review. The Photogrammetric Record, 21 (115), 269-291.
Ruther, H., Chazan, M., Schroeder, R., Neeser, R., Held, C., Walker, S., & al., e. (2009). Laser Scanning for conservation research of African cultural heritage sites: the case study of wonderwork cave, South Africa. Journal of Archaelogical Science, 36 , 1847-1856.
Shih, N., H.J., W., Lin, C., & Liau, C. (2007). 3D scan for the digital preservation of a historical temple in Taiwan. Advances in engineering software, 38 (7), 501- 512.
Varady, T., Martin, R., & J., C. (1997). Reverse Engineering of Geometric Models -an Introduction. Computer-Aided Design, 29 (4), 255-268.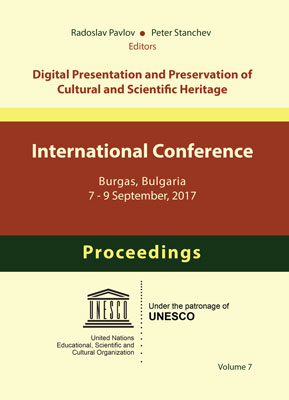 Downloads
How to Cite
Ion, R.-M., Gurgu, V., Alin Bucurica, I., Teodorescu, S., Ion, M.-L., Postolache, D., & Darida, I. (2017). 3D-Reconstruction of the Complex Stuccoes from Patrimony Buildings. Digital Presentation and Preservation of Cultural and Scientific Heritage, 7, 107–112. https://doi.org/10.55630/dipp.2017.7.9