Web Based System of BNR Archive First Stage: Multimedia Web Portal of the BNR Archive
Keywords:
Digital Radio Archive, Multimedia, Radio
Abstract
The paper describes Multimedia Web Portal of the Bulgarian National Radio (BNR) archive. The Web Portal provides efficient services of modern information technologies in radio archiving.
References
Edmondson, R. (2016). Audi Visual Philosophy And Principles Archiving. UNESCO.
Krandeva, A. (2012). Cultural Heritage Archives on Bulgarian National Radio Platforms. International Conference on Digital Presentation and Preservation of Cultural and Scientific Heritage (pp. 234-240). Sofia: Institute of Mathematics and Informatics - BAS.
Krandeva, A. (2013). Digital Off-Air Radio Events Archive of the Bulgarian National Radio. Serdica Journal of Computing, VII (2), 165–178. n.a. (2001). EBU core metadata set for Radio archives. December 2001. Geneva, Switzerland: European Broadcasting Union. Retrieved July 2017, from https://www.ebu.ch/CMSimages/fr/tec_doc_t3293_tcm7-10494.pdf n.a. (2009). Technical Report 003, Radio Archives: Conception & Practice, July 2009. Retrieved July 2017, from http://tech.ebu.ch/docs/techreports/tr003.pdf n.a. (2011). EBU – TECH 3336 EBU Reference Data & Classification Schemes Source: ECM Status: Specifica-tion v.1.1 Geneva, September 2011. Retrieved July 2017, from https://tech.ebu.ch/docs/tech/tech3336v1_1.pdf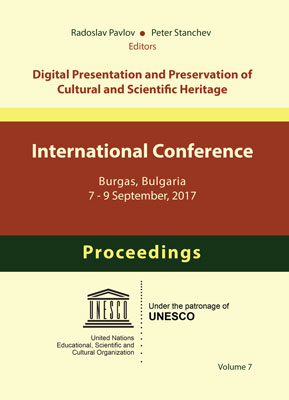 Downloads
How to Cite
Krandeva, A., & Mitov, A. (2017). Web Based System of BNR Archive First Stage: Multimedia Web Portal of the BNR Archive. Digital Presentation and Preservation of Cultural and Scientific Heritage, 7, 265–270. https://doi.org/10.55630/dipp.2017.7.27