Digitizing of Bulgarian National Radio Archives
Keywords:
Digitization, Bulgarian National Radio, Metadata Standards, Audio Archives
Abstract
The paper discusses issues connected with the audio archives digitization in the Bulgarian National Radio (BNR). It contains an overview of the audio archive digitization process, the current situation about the BNR archives, setting up a workplace for BNR digitizing of audio archives. The workplace for digitizing of audio archives manages the document creation, verification and approving the file passport, with metadata as a part from the electronic catalogue in the BNR archives phonoteque. Examples are provided to demonstrate the procedures of digitizing in details.
References
EBU drives digital archiving in the Balkans, April, http://www3.ebu.ch/contents/news/2014/04/ebu-drives-digital-archiving-in.html
Bradley, Kevin Guidelines on the Production and Preservation of Digital Audio Objects IASA-TC04 Second Edition Paperback – January 1, 2009
University of North Carolina Digital Library Services Digitization Guidelineshttp://www.unc.edu/projects/diglib/docs/dig_guidelines01.pdf
Bradley, Kevin Guidelines on the Production and Preservation of Digital Audio Objects IASA-TC04 Second Edition Paperback – January 1, 2009
EBU Reference Data & Classification Schemes EBU Tech 3336, Source: ECM Status: Specification v.1.1 Geneva September 2011
TECH 3293 EBU Core Metadata Set (EBUCore) Source: Mim Version 1.5, Geneva April
Metadata standards and guidelines relevant to digital audio http://www.ala.org/alcts/sites/ala.org.alcts/files/content/resources/preserv/audio_metadata. pdf
Правилник за попълване, съхранение и ползване на архивния фонд на БНР, http://bnr.bg/aboutbnr/page/pravilnik-za-arhivnia-fond-na-bnr
Правилник за редакционната дейност на БНР http://bnr.bg/aboutbnr/page/pravilnik-zaredakcionnata-deinost-na-bnr
Правилник за структурата и организацията на дейността на БНР http://bnr.bg/aboutbnr/page/pravilnik-za-strukturata-i-organizaciata-na-bnr
Library of Congress, National Digital Library Programhttp://memory.loc.gov/ammem/techdocs/prjplan.html
Technical Report EBU Archives Report 2010, Geneva, June https://tech.ebu.ch/docs/techreports/tr006.pdf
Content Production Technologies, edited by Fumio Hasegawa, Harou Hiki, Wiley, 2004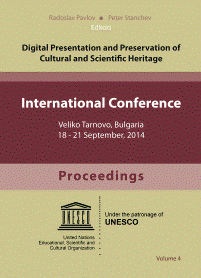 Downloads
How to Cite
Krandeva, A. (2014). Digitizing of Bulgarian National Radio Archives. Digital Presentation and Preservation of Cultural and Scientific Heritage, 4, 289–294. https://doi.org/10.55630/dipp.2014.4.36