Towards Models and Tools to Increase and Customize Visitors' Experiences in a Digital Cultural Content Management System
Keywords:
Information and Communication Technologies (ICT), Visitor Experiences, Storytelling, Technology-supported Learning, Cultural and Historical Heritage
Abstract
The current project is aimed at seeking new knowledge and achieving scientific results in the field of visitor experiences, visualization techniques, eLearning, storytelling, and serious games / gamification. The aim will be achieved through the use of scientific and research approaches and methodology in the field of ICT and informatics. Project results are models and tools for contextual use of digital cultural resources for learning purposes with support and customization of user experiences in digital systems and repositories.
References
Bontchev, B., Paneva-Marinova, D., & Draganov, L. (2016). Educational video games for Bulgarian Orthodox iconography. In L. G. Chova, A. L. Martínez, & I. C. Torres (Ed.), ICERI2016 Proceedings 9th Annual International Conference of Education, Research and Innovation (pp. 1679-1688). Seville, Spain: IATED Academy. doi:10.21125/iceri.2016.1374
CultEcoSys-Project. (2017). Concepts and models for innovation ecosystems of digital cultural assets, No. DN02/06/15.12.2016 (project web page) . Retrieved March 20, 2017, from http://cultecosys.math.bas.bg
Draganov, L., Paneva-Marinova, D., Pavlova, L., Luchev, D., Márkus, Z., Szántó, G., & Szkaliczki, T. (2015). Technology-enhanced learning for cultural heritage. In R. Pavlov, & P. Stanchev (Ed.), Proceedings of the 5th International Conference on Digital Presentation and Preservation of Cultural and Scientific Heritage. , pp. 293-301. Veliko Tarnovo, Bulgaria: Institute of Mathematics and Informatics - BAS. Retrieved March 25, 2017, from http://dipp.math.bas.bg
Luchev, D., Paneva-Marinova, D., Pavlov, R., Kaposi, G., Márkus, Z., Szántó, G., . . . Veres, M. (2016). Game-based Learning of Bulgarian Iconographical Art on Smart Phone Application. Proceeding of the International Conference on e- Learning'16, September, 2016 (pp. 195-200). Bratislava, Slovakia: Ruse : University of Ruse.
Paneva-Marinova, D., Goynov, M., & Luchev, D. (2017). Multimedia digital library: Constructive block in ecosystems for digital cultural assets. Basic functionality and services. Berlin, Germany: LAP LAMBERT Academic Publishing.
Slavova-Petkova, S., Dimova, M., & Luchev, D. (2016). Learning scenario for better understanding of fairy tales using role-playing and serious games methods. In R. Pavlov, & P. Stanchev (Ed.), Proceedings of the 6th UNESCO International Conference on Digital Presentation and Preservation of Cultural and Scientific Heritage. , pp. 241-246. Veliko Tarnovo, Bulgaria: Institute of Mathematics and Informatics - BAS. Retrieved May 10, 2017, from http://dipp.math.bas.bg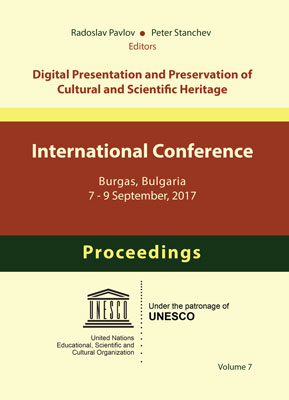 Downloads
How to Cite
Dimova, M. (2017). Towards Models and Tools to Increase and Customize Visitors' Experiences in a Digital Cultural Content Management System. Digital Presentation and Preservation of Cultural and Scientific Heritage, 7, 239–242. https://doi.org/10.55630/dipp.2017.7.22