Query Enrichment for Image Collections by Reuse of Classification Rules
Keywords:
Query Reuse, Rule-Based Classification, Image Collections
Abstract
User queries over image collections, based on semantic similarity, can be processed in several ways. In this paper, we propose to reuse the rules produced by rule-based classifiers in their recognition models as query pattern definitions for searching image collections.
References
Ambler, S.: A Realistic Look at Object-Oriented Reuse. Jan., 1998, http://www.drdobbs.com/a-realistic-look-at-object-oriented-reus/184415594
Hall, M., Frank, E., Holmes, G., Pfahringer, B., Reutemann, P., Witten, I: The WEKA Data Mining Software: An Update; SIGKDD Explorations, 11 (1), 2009
Hurtut, T.: 2D Artistic Images Analysis, a Content-based Survey, 2010, http://hal.archivesouvertes.fr/hal-00459401_v2/
International Standard ISO/IEC 15938-3 Multimedia Content Description Interface – Part 3: Visual, 5. http://www.iso.org/iso/iso_catalogue/catalogue_tc/catalogue_detail.htm?csnumber=34230
Ivanova, K.: A Novel Method for Content-Based Image Retrieval in Art Image Collections Utilizing Colour Semantics. PhD Thesis, Hasselt University, Belgium, 2011.
Raymond, E.: The Art of UNIX Programming. Chapter 16 – Reuse. Pearson Education, Inc., 2003, on-line version under the CCA available at:
http://homepage.cs.uri.edu/~thenry/resources/unix_art/index.html
Smeulders, A., Worring, M., Santini, S., Gupta, A., Jain, R.: Content based image retrieval at the end of the early years. IEEE Trans. on Pattern Analysis and Machine Intelligence, 22(12), 2000, pp. 1349 1380
Tuan, L.A.: Accessing and Using Complex Multimedia Documents in a Digital Library, Ph.D. thesis the Laboratoire de Recherche en Informatique, Université Paris -Sud, July
Zaiane, O., Antonie, M.-L.: On pruning and tuning rules for associative classifiers. In Proc. of Int. Conf. on Knowledge-Based Intelligence Information & Engineering Systems, LNCS, Vol. 3683, 2005, pp. 966 973
Zhang, H., Augilius, E., Honkela, T., Laaksonen J., Gamper H., Alene H.: Analyzing Emotional Semantics of Abstract Art Using Low-Level Image Features. Advances in Intelligent Data Analysis X, Springer LNCS 7014, 2011, pp. 413-423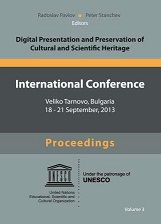 Downloads
How to Cite
Spyratos, N., Stanchev, P., Ivanova, K., & Mitov, I. (2013). Query Enrichment for Image Collections by Reuse of Classification Rules. Digital Presentation and Preservation of Cultural and Scientific Heritage, 3, 121–125. https://doi.org/10.55630/dipp.2013.3.12