Serious Games in Economics
Keywords:
Serious Game, Project, Economics
Abstract
The European Leonardo da Vinci Transfer of Innovation project "Teacher training to improve attractiveness and quality of management educ ation through the simulation tool 'Emerald Forest'" which emphases on using the computer simulation tool for increasing attractiveness of teaching and learning in economics is presented in this paper. The observation of using computer systems and especially serious games in education is provided as well.
References
Antonova A., Stefanov K.: Methods for Transferring Knowledge and Building Content in Serious Games. Sofia University Magazine for e-Learning. S, ISSN: -6130.
Emerald Forest – Management Game: Staff Instruction Manual – November 2011
Emerald Forest – Management Game: Student Instruction Manual – February 2012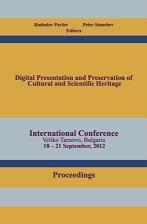 Downloads
How to Cite
Todorova, M., Tzonkova, V., & Byanova, N. (2012). Serious Games in Economics. Digital Presentation and Preservation of Cultural and Scientific Heritage, 2, 187–192. https://doi.org/10.55630/dipp.2012.2.14