Digitalization for Preserving the Book Heritage of the University Library at "Angel Kanchev" University of Ruse
Keywords:
Digitalization, University Libraries, Cultural and Historical Heritage
Abstract
This paper presents the project "Creating a digital collection in the fund of the University library in University of Ruse "Angel Kanchev" (Centre for digitalization), contract number No 2022- РУ -04, funded by the National Research Fund. Aim of the project is digitizing the first book collection in the University library's fund and presenting it to the wide audience.
References
Dushkov, J. (2010). The Ruse Alma Mater, Ruse: University of Ruse. [In Bulgarian]
European Commission Representation in Bulgaria (2022, May 17). Retrieved from European Commission Representation in Bulgaria: https://bulgaria.representation.ec.europa.eu/strategiya-i-prioriteti/osnovni-politikina-es-vblgariya/cifrovizaciya_bg?fbclid=IwAR1XVKxEGk_P2jvv0KpGD__IwTTdINKOGIZVlRPGoI9GDNiYy3xGa1MplI
Gueguen, G., Hanlon, A. (2009). A Collaborative Workflow for the Digitization of Unique Materials. The Journal of Academic Librarianship , 35(5) , 468-474.
Hunter, B. (2012). The Effect of Digital Publishing on Technical Services in University Libraries. The Journal of Academic Librarianship, 39(1) , 84-93.
Leguina, A., Mihelj, S., Downey, J. (2021). Public Libraries as Reserves of Cultural and Digital Capital: Adressing Inequality trough Digitalization. Library and Information Science Research , 43(3) , 1-9.
Pavlova, D. (2020). Digital Preservation of Cultural Heritage and Opportunities Created by the Pandemic Crisis for Bringing New Life to Historical and Cultural Artefacts. Digital Presentation and Preservation of Cultural and Scientific Heritage (pp. 225-230). Sofia: Institute of Mathematics and Informatics - BAS.
University of Ruse Department of Pedagogy, psychology and history (2022, May 17). Retrieved from University of Ruse Department of Pedagogy, psychology and history: https://www.uni-ruse.bg/Departments/PPI/history
University of Ruse. (1974). Guidebook. Ruse: University of Ruse. [In Bulgarian]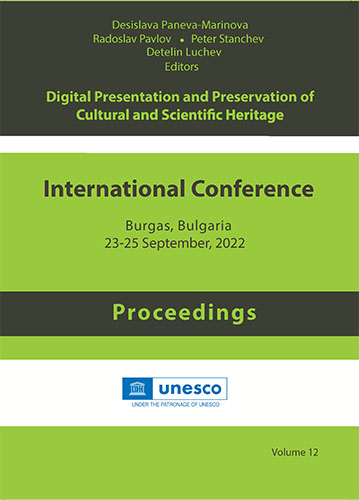 Downloads
How to Cite
Ivanova, V. (2022). Digitalization for Preserving the Book Heritage of the University Library at "Angel Kanchev" University of Ruse. Digital Presentation and Preservation of Cultural and Scientific Heritage, 12, 271–276. https://doi.org/10.55630/dipp.2022.12.25