Mobile Presentation of the War History of the City of Niš
Keywords:
Mobile Application, QR Code, Augmented Reality, Cultural Heritage
Abstract
Contemporary visitors of a historical and tourist site expect access to quick information about different subjects according to their interests. Unfortunately, billboards and plates near monuments usually do not provide enough information that can satisfy the visitors' needs. However, mobile devices such as tablets and smartphones with appropriate software solutions can help visitors get the information in an appropriate manner. In this paper, we present two ways of providing information such as a web application with the usage of QR codes, and a purposely developed application for mobile devices implemented by using augmented reality technologies. We compare both these solutions and discuss their advantages and possible drawbacks. The application of these two approaches of using information technologies in representing national historical heritage are illustrated by concrete examples of their implementation in the city of Niš. By using these applications, visitors are informed about the war history of Niš, a city that was occupied many times and by many conquerors in its millennia-long history.
References
Argyriou, L., Economou, D., & Bouki, V. (2020). Design methodology for 360 immersive video applications: the case study of a cultural heritage virtual tour. Personal and Ubiquitous Computing, 24 (6), 843-859.
Barbieri, L., Bruno, F., & Muzzupappa, M. (2018). User-centered design of a virtual reality exhibit for archaeological museums. Journal on Interactive Design and Manufacturing (IJIDeM), 12 (2), 561-571.
Koo, S., Kim, J., Kim, C., Kim, J., & Cha, H. S. (2019). Development of an augmented reality tour guide for a cultural heritage site. Journal on Computing and Cultural Heritage (JOCCH), 12 (4), 1-24.
Nikolakopoulou, V., Printezis, P., Maniatis, V., Kontizas, D., Vosinakis, S., Chatzigrigoriou, P., & Koutsabasis, P. (2022). Conveying Intangible Cultural Heritage in Museums with Interactive Storytelling and Projection Mapping: The Case of the Mastic Villages. Heritage, 5 (2), 1024-1049.
Roussou, M., & Katifori, A. (2018). Flow, staging, wayfinding, personalization: Evaluating user experience with mobile museum narratives. Multimodal Technologies and Interaction, 2 (2), 1-32.
Solima, L., & Izzo, F. (2018). QR codes in cultural heritage tourism: New communications technologies and future prospects in Naples and Warsaw. Journal of Heritage Tourism, 13 (2), 115-127.
Tatić, D., Gajić, D. B., & Stanković, R. S. (2015). QR Codes Telling the Story about the History of Niš. The Fifth Internacional Conference on Digital Presentation and Preservation of Cultural and Scientific Heritage-DiPP , (pp. 133-139).
Tatić, D., Stanković, R. S., Stojanović, J., & Jovanović, M. (2019). Universal electronic guide for museum exhibitions. Proceedings of Conference Digitalization of Cultural Heritage in Niš Region , (pp. 54-62).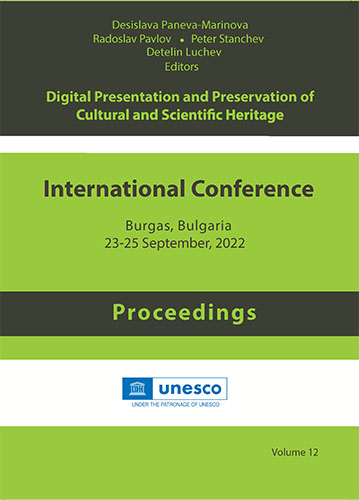 Downloads
How to Cite
Tatić, D. (2022). Mobile Presentation of the War History of the City of Niš. Digital Presentation and Preservation of Cultural and Scientific Heritage, 12, 151–160. https://doi.org/10.55630/dipp.2022.12.12