Links and Hubs of Scientific Information – the Case of the MTMT
Keywords:
bibliography, scientometry
Abstract
We present the Hungarian National Scientific Bibliography project: the MTMT. We argue that presently available commercial systems cannot be used as a comprehensive national bibliometric tool. The new database was created from existing databases of the Hungarian Academy of Sciences, but expected to be re-engineered in the future. The data curation model includes harvesting, the work of expert bibliographers and author feedback. MTMT will work together with the other services in the web of scientific information, using standard protocols and formats, and act as a hub. It will present the scientific output of Hungary together with the repositories containing the full text, wherever available. The database will be open, but not freely harvestable, and only for non-commercial use.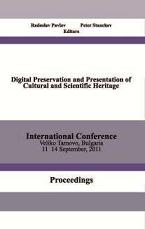 Downloads
How to Cite
Holl, A., & Makara, G. (2011). Links and Hubs of Scientific Information – the Case of the MTMT. Digital Presentation and Preservation of Cultural and Scientific Heritage, 1, 37–42. https://doi.org/10.55630/dipp.2011.1.4