Digitization of Literary Heritage in the Bulgarian Libraries: Facing Problems and Challenges
Keywords:
libraries, digitization, literary heritage
Abstract
Paper deals with the current issues and challenges before digitization of literary heritage in the Bulgarian libraries. Main problems are outlined. Socialization of digitized heritage is commented.
References
Achleitner, H., Dimchev, A. (eds.): Globalization, Digitization, Access and Preservation of Cultural Heritage. Sofia, St. Kliment Ohridski Univ. Press (2007).
Anderson, K., Gemmill, L.: Step Easily into the Digital Future. American Libraries, vol. 42, – 8, pp. 36 – 39 (2011).
Dipchikova, A., Yanakieva, T.: Bibliografskiat control I digitalizatsiata na kulturnoistoricheskoto nasledstvo [Bibliographic Control and Digitization of Cultural Heritage] (in Bulgarian). Biblioteka [Library], 1, pp. 5 – 15 (2007).
Domi, E.: Digitalization on National Heritage from Vision into Reality. In: Etika u nautsi I kulturi / Ethics in Science and Culture, Belgrade, pp. 179 – 187 (2002).
Doncheva, A.: Initsiativi za digitalizatsia na knizhovnoto kulturno nasledstvo I dostapat do nego [Initiatives for Digitization of Literary heritage and its Access] (in Bulgarian). Biblioteka [Library], 1, pp. 17 – 20 (2009).
Lusenet, Y. de, Wintermans, V. (eds): Preserving the Digital Heritage: Principles and Policies. The Hague, Netherlands Nat. Commiss. for UNESCO (2007). Evgeniya Rusinova, Georgeta Nazarska
Marcheva, R.: Digitalizatsiata kato metod za sahranenie na bibliotechni I archivni materiali [Digitisation as a Method of Preservation of Library and Archival Materials] (in Bulgarian). Archiven pregled [Archival Review], 3 – 4, pp. 36 – 39 (2000).
Petkova, E.: Preporaki na UNESCO za digitalizirane I sahranenie na kulturnoto nasledstvo [Recommendations to UNESCO for the Digitization and Preservation of Cultural Heritage] (in Bulgarian). Godishnik na Balgarski informatsionen konsortsium [Yearbook of the Bulgarian Information Consortium], vol. 2, pp. 80 – 83 (2006).
Prodanov, H.: Digitalnata politika [Digital Policy] (in Bulgarian). Veliko Tarnovo, Faber (2010).
Todorova, T.: Po vaprosa za strategija za digitalizatsia na kulturnoto nasledstvo v Balgaria [On the Question of Strategy for the Digitization of Cultural Heritage in Bulgaria] (in Bulgarian). Trudove na SVUBIT [Proceedings of the SULSIT], vol. 8, pp. 405 – 415 (2010).
Varbanova-Dencheva, K.: Digitalna konversija I funktsionalna transformatsia na bibliotekite [Digital Conversion and Functional Transformation of Libraries] (in Bulgarian). Sofia, Za bukvite-O pismeneh (2009).
Verheu, I.: Networking for Digital Preservation: Current Practice in 15 National Libraries. Munchen, Saur (2006).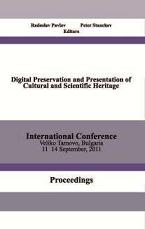 Downloads
How to Cite
Rusinova, E., & Nazarska, G. (2011). Digitization of Literary Heritage in the Bulgarian Libraries: Facing Problems and Challenges. Digital Presentation and Preservation of Cultural and Scientific Heritage, 1, 161–164. https://doi.org/10.55630/dipp.2011.1.17